Star Trek 2 Casts Benedict Cumberbatch As The Villain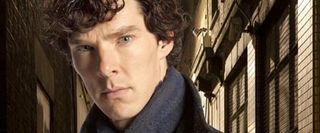 Already set to play the evil Smaug the dragon in The Hobbit, up-and-coming British actor Benedict Cumberbatch looks to have landed another huge villainous role: the main baddie in Star Trek 2. Deadline got the scoop that he had been cast in a "a lead role," and Variety adds that it is indeed the villain role that Edgar Ramirez auditioned for last month. At the time Ramirez was considered the top choice, but for whatever reason things have changed, and Cumberbatch is now the guy.
You can see Cumberbatch practically everywhere these days, from a pivotal supporting role in Tinker Tailor Soldier Spy to a crusading soldier in War Horse to playing the lead character on BBC's Sherlock, which just premiered for its second season. While he's undeniably well-qualified to play the Trek villain, and his British snootiness should make an excellent contrast to Chris Pine's cocky American Captain Kirk, his casting seems to belie the recurring rumor that the film's major villain is Khan. As played by Ricardo Montalban in the original TV series and Star Trek 2: The Wrath of Khan, Khan was Indian and played by a Mexican-American actor; the rumors that del Toro and Ramirez, both Spanish-speaking actors, seemed to confirm that Khan was the guy.
But Cumberbatch, talented as he may be, isn't going to pass as an Indian character. So if he's the main villain, who is he playing, and what happened to Khan? Is Khan still involved and Cumberbatch is playing a separate character? Or have the rumors really been wrong all along? Our sister site GFR has a pretty plausible theory that could explain a lot. Check out their wild Cumberbatch casting ideas over there.
Chew over that, and tell us if you're as excited to see Cumberbatch in the film as we are, in the comments below.
Staff Writer at CinemaBlend
Your Daily Blend of Entertainment News
Thank you for signing up to CinemaBlend. You will receive a verification email shortly.
There was a problem. Please refresh the page and try again.