Edgar Ramirez Now Top Choice For Star Trek 2 Villain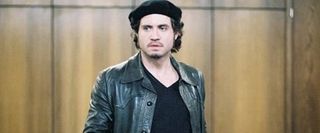 With Benicio del Toro officially not interested and production set to begin soon, J.J. Abrams is working over time to cast the villain for Star Trek 2, and he's set his sights on another name with plenty of prestige. Variety reports that Edgar Ramirez, who starred memorably in the miniseries Carlos, is the front-runner to play the villain role which is widely rumored to be the iconic Khan, no matter how much Abrams denies it.
Ramirez isn't the only choice-- Variety says they're also eyeing Jordi Molla, who was most recently in Colombiana but also popped up in Knight and Day and Bad Boys 2. Production on Star Trek 2 is supposedly set to start early next year in time to make the planned May 17, 2012 release date; casting of the villain has gotten a lot of attention lately, but the sequel has also brought in Robocop star Peter Weller and Alice Eve.
While we likely won't get any confirmed information about the villain for a long, long time, this casting news has me looking right back at Khan for a simple reason. Ricardo Montalban, who played Khan in the classic Star Trek: Wrath of Khan, was Mexican. Benicio del Toro was born in Puerto Rico. Edgar Ramirez is Venezuelan, and Jordi Molla is from Spain. All of these actors share a Spanish language heritage with Montalban, and it's hard to imagine why Abrams is looking solely at actors from one general ethnic group if he's not trying to replicate Montalban's iconic Khan. Of course, if all the actors he was eyeing were white I wouldn't even be questioning it-- so before you say it, yes, this logic could be flawed. But if you've been suspicious all along about Abrams's denial that it's Khan, this might be one more reason.
We'll see if Ramirez or Molla gets the part, or if it goes to somebody entirely different-- and just to prove me wrong, it'll be a Chinese actor. Nothing will stop the speculation, of course, but that's the fun of it.
Your Daily Blend of Entertainment News
Staff Writer at CinemaBlend
Your Daily Blend of Entertainment News
Thank you for signing up to CinemaBlend. You will receive a verification email shortly.
There was a problem. Please refresh the page and try again.