Star Trek Veteran Alice Krige Joins Thor: The Dark World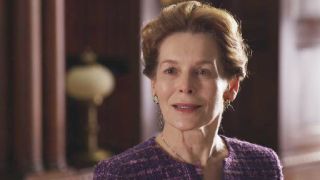 (Image credit: Netflix)
South Africa-born actress Alice Krige has a name you may not be able to place, but a face you can't forget. Her otherworldly bone structure and piercing eyes have helped make her a memorable supporting player in a wide array of genre films, from sci-fi classic Star Trek: First Contact, where she portrayed the Borg Queen, to the fantasy adventure The Sorcerer's Apprentice as the evil witch Morgana le Fay, and the Western series Deadwood, where she played the conniving and cold madam Maddie. So, in short she seems a perfect addition to ever-expanding world of Marvel movies.
ComicBookMovie.com reveals Krige has landed a small role in the upcoming Thor: The Dark World, and with her penchant for bold choices, she would fit quite nicely into the Shakespearean style of drama director Kenneth Branagh set up with the first Thor adventure. Of course, with Game of Thrones director Alan Taylor slated to helm this hotly anticipated sequel, audiences should anticipate a grittier approach to their grandiose god. It seems with Loki in custody following The Avengers, Thor: The Dark World could begin with Thor returning his notorious half-brother to Asgard. It's been speculated, based on the title, that from here a new threat emerges from the Dark Elves of Svartalfheim, the golden-locked god must traverse The Nine Realms to save not only his home but that of his beloved Jane Foster as well.
As to Krige's role, details are sparse. But at a panel discussion at a Star Trek convention is Las Vegas, she teased that she may not be recognizable in the film, spurring speculation that she will portray one of these Dark Elves, whose costumes will likely involve intense prosthetics. With Doctor Who's Christopher Eccleston signed for the role of Malekith the Accursed, leader of the Dark Elves, could Krige be set to play Queen Alflyse? With Thor: The Dark World set to go into production later this month, a confirmation should follow shortly.
Your Daily Blend of Entertainment News
Staff writer at CinemaBlend.