New Star Wars Episode 7 Preview Features A Curious Moment Between Han And Rey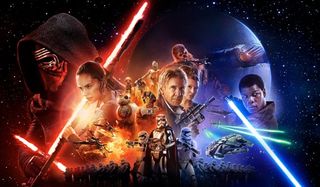 Earlier this week, fans were promised a special look at new footage for Star Wars: The Force Awakens during ABC's TGIT lineup – and the network delivered in spades. But in case you missed it, and somehow don't DVR / aren't a fan of Scandal, we have your latest look at this December's main event below – which includes some interesting material with Han Solo and Rey.
After a night of Shonda Rhimes scripted drama, and remembrances of various cast members from said shows detailing how they felt about the Star Wars legacy, this new clip was dropped on air by ABC for the world to see. The spot is only a minute long, but there's enough footage to new pieces to the puzzle that further flesh out some of our assumptions of what the seventh Star Wars film holds in store for us all. And our first look at what we believe will be the return of a classic character we'd reported on earlier -- Admiral Ackbar is back! Look next to C-3PO in this screen grab. Granted, this could be a different Mon Cal. What do you guys think?
Among the additional moments that stood out is a brief scene where Han Solo, upon touching down on the surface of a random planet, hands Daisy Ridley's Rey a blaster pistol and tells her, "You might need this." You really have to pay attention to the hand off though, as we originally thought that the item changing hands was a lightsaber. Our first guess was, admittedly, a biased one – as Rey seems to be the best candidate for being a secret child of Han Solo and General Leia Organa; and as Leia is Force Sensitive like her brother, Rey's burgeoning talents could be the focus of this film's story. Also, it would make for a perfect reason that the First Order is attacking the hell out of Jakku during the new film's storyline, as some are lead to believe that Luke Skywalker and his kind are villains.
Of course, this new shot of John Boyega's Finn wielding the lightsaber doesn't help matters any, as the theory that Finn is the new Jedi just gained a little more credence. If Star Wars: The Force Awaken's new TV spot had shown us another shot of his dust up with Kylo Ren, we would have been more likely to fall into the camp that believes that Finn doesn't know how to use a lightsaber, and is doing so out of pure necessity. But as you'll see in the trailer above, Finn is using the lightsaber on a random First Order stormtrooper, so the force might be strong with this one yet.
Tonight's new look at Star Wars: The Force Awakens wasn't meant to try and further sell us on what could be the biggest film of 2015. J.J. Abrams and the folks at Lucasfilm know exactly what they're doing with TV spots like this: they're teasing the fans, and whipping the public into that inescapable frenzy that normally sweeps fans into its clutches during an event like this. If they won a couple more converts after tonight, that's just gravy on the potatoes. But make no mistake, this one was cut for the fans, just to watch them sweat out the wait just a little more.
The wait is over on December 18th, when Star Wars: The Force Awakens is released everywhere.
CinemaBlend's James Bond (expert). Also versed in Large Scale Aggressors, time travel, and Guillermo del Toro. He fights for The User.
Your Daily Blend of Entertainment News
Thank you for signing up to CinemaBlend. You will receive a verification email shortly.
There was a problem. Please refresh the page and try again.