The Stargate Reboot Is One Step Closer To Happening, Get The Latest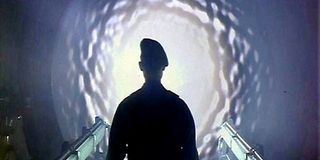 Roland Emmerich's Stargate reboot has officially got its writers. Nicholas Wright and James A. Woods are in final negotiations for the second of a planned trilogy that somehow got stalled after the film raked in $200 million worldwide when it debuted back in 1994.
Wright and Woods are fresh meat on the Hollywood screenwriting circuit. Both men are also Hollywood hyphenates with thriving acting careers. Woods has had a recurring role in Syfy Being Human and Wright was in Emmerich's White House Down. The duo recently worked with Emmerich on the screenplay of Independence Day. The Hollywood Reporter broke the news, saying that the team's screenplay for a Centropolis-produced thriller based on a diving ship in the Arctic was what warmed Emmerich to their work.
Stargate's much talked about reboot was announced last year, with Emmerich and co-Stargate creator Dean Devlin gushing forth in a public statement on how much they loved the original film and how it was always planned as a three-some.
The original film starred a fresh-faced James Spader, a post-Thing Kurt Russell and a fresh-from- Crying Games Jaye Davison as "Ra," the space traveler who would be an Egyptian god. The film ended with Spader staying planet-side, while Russell and his troops clicked their heels and went back to Earth. But fans didn't want to see Stargate go and a multi-layered universe of TV incarnations was mounted. Although these various incarnations grew the Stargate fanbase, they complicated the plot and took it off in multiple directions away from the original "Lawrence of Arabia in outer space" theme that had made the film so cinematic and such a simple, visual and visceral treat.
The question of the moment is: will Wright and Woods take up with Stargate's original characters Dr. Daniel Jackson and Jack O'Neil? Or will they spin the space roulette and warp towards new worlds and cultures.
Spader has now settled happily into the skin of the grizzled and world-weary Raymond Reddington on The Blacklist and a Russell re-do might look too much like Jeff Bridges in R.I.P.D. to recapture Jack's ballsy charm.
Emmerich also won't want to complete with the buzz around the forthcoming Gods of Egypt, which stars Nikolaj Coster-Waldau as Horus and The 300's Gerard Butler as the evil Set (you see statues of Set in Stargate)--take that Jaye Davidson! Our guess is that the reinvigorated franchise will keep the Chariots of the Gods conceit but look to other galaxies and cultures to flesh it out. Mayans on the Pleiades, Incas on Alpha Centauri?
This poll is no longer available.
Your Daily Blend of Entertainment News
Thank you for signing up to CinemaBlend. You will receive a verification email shortly.
There was a problem. Please refresh the page and try again.