Stargate Writer Dean Devlin Admits One Funny Thing He Wishes He Could Change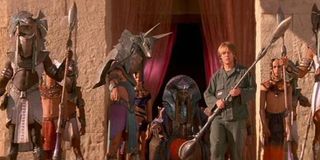 Sometime it's hard to believe it's been more than 25 years since Dean Devlin and Roland Emmerich found the budget to make Stargate, a sci-fi fan favorite that went on to spawn multiple shows that aired for audiences on cable. Years later, Devlin still has fond memories from the making of the now-iconic film, but in a recent interview Stargate's writer revealed one funny thing he really wish he could change about the 1994 film.
If you are familiar with Stargate at all, you may already know that much of the film was created using practical effects, including large sets and more, though some limited CGI was used at the time. However, given the budget of the flick was not as big as they probably would have liked, sometimes the film had to resort to some janky methods to get the scope it wanted, as Dean Devlin hilariously revealed to Dial the Gate.
These days, making a ragtag group of extras look like a small army's worth of characters would not be such a ridiculously hard feat, thanks to the beauty of VFX. However, I have to shout out to the men and women who have been tirelessly creative when it comes to practical effects in years past (and still sometimes today). The idea of buying a stick with a costume on it as a character seems laughable, but I've seen Stargate more than once and have never noticed this before.
There was actually some CG in Stargate, as Dean Devlin did tell David Read during the interview that the impressive helmet effect of the Horus and Anubis guards was "the first" time they'd messed with that type of technology, which Read rightfully mentions was "impressive."
Both Roland Emmerich and Dean Devlin originally had big plans for a Stargate film franchise and multiple sequels. Those never came to fruition, though the possibility has been touched on occasionally, including earlier this year. Some of the ideas were ultimately worked into the TV shows that came later and some were not, but Devlin has said previously even seeing that happen was "tough" because he wanted to be the one to get the job done. Interestingly, the series had its own struggles with VFX.
Roland Emmerich and Dean Devlin have gone on to bigger budget projects – they even worked together on Independence Day and 1998's Godzilla movie – but Stargate has always stuck out as the one that got away. Perhaps we'll get more from the future. For now though, still getting these set stories is an alright consolation prize.
Reality TV fan with a pinch of Disney fairy dust thrown in. Theme park junkie. If you've created a rom-com I've probably watched it.
Your Daily Blend of Entertainment News
Thank you for signing up to CinemaBlend. You will receive a verification email shortly.
There was a problem. Please refresh the page and try again.