10 Great Sci-Fi Movies Available On Plex Right Now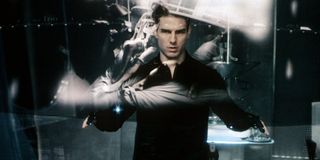 CinemaBlend participates in affiliate programs with various companies. We may earn a commission when you click on or make purchases via links. The following article was produced in partnership with Plex.
Not too long ago, we here at CinemaBlend partnered with the streaming service Plex to highlight some of the best movies it had to offer on their platform. But streaming libraries being what they are, new and exciting stuff gets added and taken away on a regular basis, so we felt like it was a good idea to check in and see if anything new and cool was added. Plus, give that the Halloween season has concluded, the horror movie binges we've just finished have us all ready for some genre adjacent thrills in the way of some great sci-fi movies. Get ready to stream, as this list has 10 awesome picks just waiting to meet your acquaintance at this very moment.
Minority Report
One half of one of the greatest Steven Spielberg double plays ever, Minority Report adapts Philip K. Dick's short story into an action mystery that is pure Spielberg. As Tom Cruise's law enforcement protagonist is on the run for a crime he's supposedly about to commit, his detective skills will be put to the test in order to clear his own name. The message, and the set pieces, absolutely hold up; and it boasts an ending that still has audiences debating its true meaning, as well as whether it fits the film or not.
Pacific Rim
Monsters come in all shapes and sizes, even those created by the colorful mind of director Guillermo del Toro. Nowhere has that action gotten its largest and most comprehensive workout than in the anime/Godzilla-inspired Pacific Rim, where a group of brash and determined pilots set out to cancel the kaiju apocalypse. A lot of mad science makes its way into this fun-filled ride, as large scale aggressors require some pretty big solutions, and an even larger sense of resolve, to be defeated.
Cube
Sci-fi is one of the great genres where no matter what size or scale the ideas are presented in, the right idea comes across like a charm. Writer/director Vincenzo Natali's Cube embodies that scrappy spirit, telling a tale of puzzles of imprisonment which sees a group of strangers struggle to survive in a maze that has tons of nasty surprises awaiting them around every turn. If you're a fan of the Saw franchise and/or the more recent thriller Escape Room, you can thank Cube for helping those movies come to life.
Stargate
Before it was a wildly successful television franchise across multiple spinoffs, Stargate started out as a theatrical blockbuster that wowed fans at the multiplex. With Kurt Russell and James Spader respectively originating the iconic roles of Colonel Jack O'Neill and Daniel Jackson in director Roland Emmerich's sci-fi adventure, the story of how humanity first used the Stargate, and where the world that eventually spawned Stargate SG-1 came from, are both built from the ground up in this picture. So if you're looking for a new series to binge or want to see how the franchise began, Stargate is a great choice to indulge in.
Star Trek: First Contact
There are several of Paramount's Star Trek films to choose from on Plex's extensive library, and they're actually some of the fan favorites from the franchise. Perhaps the best one on offer is 1996's Star Trek: First Contact, which kept the series tradition of using time travel as an exciting story device going with the Next Generation crew. Action packed, extremely humorous and even a bit frightening at times, the eighth Star Trek movie is one of the entries that fans continually heap praise onto, even after all of these years. Resistance is futile.
Monsters
Another example of low budget origins making sci-fi magic, writer/director Gareth Edwards tangled with gigantic beasties before he even set eyes on the director's chair to the 2014 reboot of Godzilla. In Monsters, Edwards not only wrote and directed the story of a world where monstrous invaders pose a rather inconvenient threat to the human race, but he also tackled the roles of cinematographer, production designer and visual effects powerhouse. This indie darling packed such a punch that Gareth Edwards found himself tangling with Titans and the forces of the Empire, as Rogue One: A Star Wars Story also enlisted his talents upon the results of his humble, but impressive beginnings.
The Dead Zone
One of Stephen King's best-selling novels, The Dead Zone, is another one of those successes that eventually found itself on both the big and small screens. But even after doing pretty well for itself as a USA original series, the David Cronenberg-directed film is still a chilling masterpiece of grounded tension. With Christopher Walken playing the central role of reluctant clairvoyant Johnny Smith, he delivers a landmark performance as his school teacher-turned-psychic tries to prevent an apocalypse the likes of which we've never seen. Political paranoia and heartbreaking drama take the stage in this adaptation of a King classic.
Vanilla Sky
What if we told you that Cameron Crowe and Tom Cruise made a sci-fi movie that nearly defies explanation? If we were around to spread that message back in 2001, maybe Vanilla Sky might have been a bigger hit than it turned out to be at the box office. However, it's never too late to discover the truth about this cult classic for yourself, as Cruise's charming millionaire David Ames goes from schmoozing power brokers and famous friends to having a rather unique crisis of personality. We're being vague here, but it's best to go into this one with as little knowledge as possible.
Paycheck
Another charming defiance of expectations comes from the John Woo/Ben Affleck pairing that's known to the world as Paycheck. Also torn from the pages of Phillip K. Dick, this sci-fi mindbender shows a world where looking into the future is possible, but it comes with a lot of strings. Affleck's Michael Jennings is the man that creates this technology, but the only problem is, he doesn't remember a thing. All he has are a series of clues his past self has left him, with a ticking clock hounding his every move.
A.I. Artificial Intelligence
We close our rundown of great sci-fi movies with another one that's gained quite the following in its post-release life. Meant as a tribute to his late friend and mentor's work, Steven Spielberg's A.I.: Artificial Intelligence was a project that originated as a Stanley Kubrick picture. But over the course of several decades, Kubrick would try to convince Spielberg that the film was something that was more aligned with the blockbuster director's sensibilities. It's a haunting riff on the Pinocchio legacy, with young Haley Joel Osment delivering a hell of a performance in the afterglow of The Sixth Sense.
Before we go, we'd like to remind you that if you saw a movie on this list that caught your eye, you can start watching it immediately through the Plex service right this very moment. So don't think we're just hyping you up for coming attractions that have a bit more of a wait time on their debut. You now have all you need to either start enjoying this streaming service, or to continue where you left off when we last spoke of it. Stream responsibly, and don't forget, there's plenty more where these came from. So be sure to check Plex (opens in new tab) real carefully, as all titles are subject to change and availability.