Stephen King Addresses Your Dark Tower Adaptation Concerns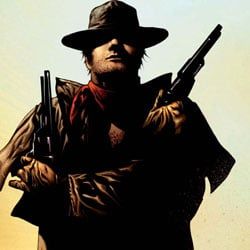 With the huge, mind-blowing announcement yesterday that not only is Stephen King's Dark Tower being turned into a movie trilogy but a concurrently running television series as well (full details here), fans have a lot questions about how, well, how the hell is this going to work? No one has ever attempted anything like it in the history of entertainment and King's books are already a pretty unique and challenging property to adapt in any format, let alone two.
Stephen King himself got on the horn with EW this morning to answer a few questions about what they have planned for the film. Truthfully it's still early in the process and it doesn't sound like he's intimately involved in the production. In fact he says, "I always thought it would take more than a single movie, but I didn't see this solution coming — i.e., several movies and TV series. It was Ron [Howard] and Akiva [Goldsman]'s idea." That doesn't mean he's not on board with it though. King says, "Once it was raised, I thought at once it was the solution."
He's not talking about how they might cast to play the movie's leads, though he does jokingly suggest the Twilight cast. But he did have at least one actress, specifically in mind when he wrote one of the book's characters. He says, "when I write about Susannah Dean, I always kind of see Angela Bassett in my mind's eye." I can see that. She'd be great. Personally I always see Viola Davis. Like all of us though, King says, "Mostly I just want good people in those parts. Ron Howard will find them, I'm sure."
The only real concrete casting idea he has is his own. When asked who he'd like to play in the movie Stephen says, "I'd love to be the voice of Blaine the Mono." That's a really specific voice. A pivotal voice. I'm not sure he could pull it off but in a weird way, that does seem sort of appropriate.
As a fan of the Dark Tower series though, the question that's most weight on my mind after the announcement that the stories will be told using both film and television, is whether they'll have to water it down to fit television's notoriously nervous censorship standards. It's particularly worrisome since the series is being produced by Universal, which has no connection with HBO, Showtime, or any of the pay cable television networks which are willing to show the kinds of adult-oriented content written so perfectly in The Dark Tower books. Stephen King, it seems, isn't worried. Here's how he addresses it. "I don't see that as a problem at all! We'll have just enough latitude to make a great series. I've worked in network TV before, and every time I was squeezed a little, it just made me look for creative solutions. Besides, I always like to play in the biggest auditorium available!"
Read the full interview over at EW.