Stephen King's Dark Tower Is Officially Getting A Movie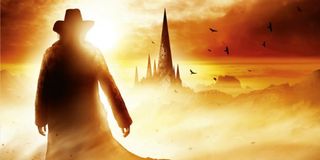 The fate of Stephen King's The Dark Tower has been decided! After years of false promises to make a film, an idea for a TV series that went nowhere and other failed attempts to adapt the property, the beloved fantasy series is making its way to theaters.
According to The Hollywood Reporter, the Dark Tower movie is being co-financed by Sony and MRC. This new film will adapt the storyline of the first book installment, which is subtitled The Gunslinger. Akiva Goldsman, Ron Howard, Brian Grazer and Erica Huggins are on board to produce the affair, and the script is said to be a total retooling of the previous drafts. In a statement accompanying the update, King expressed his excitement to finally see his masterpiece make a major step forward in its journey to the silver screen. Deadline was the first report the news, and the trade also states that a complimentary TV series is also in development from MRC.
The Dark Tower series is made up of seven novels, and centers around Roland Deschain, a member of an order of gunslingers living in a supernatural world called Mid-World. He's in search of a mystical structure called The Dark Tower, which is the nexus of all the various worlds. Roland must find and defend the tower against a mysterious figure attempting to destroy it. It's The Lord of the Rings meets classic Westerns meets King's unique take on horror. The books spawned a comic series through Marvel, as well as a video game experience called Discordia. But good men have attempted to develop a film version of the story with little success.
The producers have long been involved in the project's drawn-out production woes. Universal once had ambitious plans to make a trilogy of Dark Tower films and an accompanying TV series, and Javier Bardem was said to be eyeing the effort. Howard was attached as the director at the time. Unfortunately, The Dark Tower was put into turnaround, which is where it seemed like it would remain. Warner Bros. similarly passed on the film and MRC has been trying to develop it, but Goldsman said last year that it wasn't officially back on.
Now, the game has changed for the better. The next big task will be finding a director to helm The Dark Tower. Tom Rothman, the new Sony Pictures Entertainment chairman, said in a statement that the studio is thrilled with the script, which was co-written by Goldsman and Jeff Pinkner. Given the long road these folks took to get to this point, the news almost doesn't seem real. Perhaps I'll start getting amped again once casting begins.
Your Daily Blend of Entertainment News
Thank you for signing up to CinemaBlend. You will receive a verification email shortly.
There was a problem. Please refresh the page and try again.