Stephen King's The Dark Tower Trying Out A New Writer-Director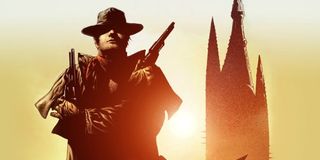 Stop me if you have heard this one before: An adaptation of Stephen King's eponymous tome The Dark Tower is happening! This time, however, we seem to have actual traction on the first installment in what's expected to be an ambitious project, only the name in the mix is a newcomer to this lengthy, lengthy conversation.
Nikolaj Arcel, a Danish filmmaker whose credits include 2009's The Girl With The Dragon Tattoo and Mads Mikkelsen's A Royal Affair, is in talks to write and direct the first film in a series based on Stephen King's The Dark Tower series. Deadline says that Arcel would do a rewrite on the existing script – which right now largely sticks to King's first book in the series, The Gunslinger -- and would be in line to direct the first movie. This film would introduce King's main protagonist, Roland, and his young protégé, Jake Chambers.
Arcel reportedly impressed Sony Pictures with his ability to go "dark" in the Dragon Tattoo adaptation. While Sony is named as the distributor and key financier on this initial movie, there are still plans, according to Deadline, to produce an accompanying television series to help carry the weight of some of the hefty narrative in the Dark Tower saga. If you are completely unfamiliar with King's masterful work, this story takes place in an alternate dimension (one that runs parallel to our world in spots), where Roland Deschain embarks on a grueling journey to reach his destination, The Dark Tower. It's unclear why Roland is drawn to the top of the Tower. We only know that he'll stop at nothing to reach this location. Along the way, Roland pulls in fellow travelers in Jake, drug addict Eddie Dean, schizophrenic Susannah Dean, and Oy, a helpful billy-bumbler.
Stephen King's Dark Tower saga stretched over seven main books that took him decades to write and publish. King's own accident, when he was hit by a van while walking, inspired him to hunker down and finish the saga in 2003, so that he (and his fans) could have closure on Roland's all-encompassing journey.
The same sense of urgency plagues Hollywood's film adaptations of the Dark Tower books. Seeing as how they take place in a far-off land, converting King's imagination to the big screen won't be easy… or cheap. Yes, film series like Harry Potter and Peter Jackson's various Tolkien adaptations prove that work like this CAN be done. But it takes the right leader to pull something like this off. Will Nikolaj Arcel be the right person to usher Stephen King's The Dark Tower to the big screen, after years and years of false starts? We'll continue to track the potential film series' progress, as this story develops.
Movie junkie. Infatuated with comic-book films. ReelBlend cohost. Resident dad. Extroverted introvert. Wants to see the Snyder Cut. Managing Director at CinemaBlend.
Your Daily Blend of Entertainment News
Thank you for signing up to CinemaBlend. You will receive a verification email shortly.
There was a problem. Please refresh the page and try again.