Stephen King's Rose Madder Gets Adaptation By In America Writer Naomi Sheridan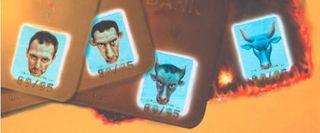 Stephen King has always been big business for Hollywood, and that hasn't changed even as the writer cruises through his '60s. As of this story, there are something like a dozen film and television projects in the works based on his material. Stuff like The Dark Tower and Under the Dome have been generating most of the chatter, but there are also pending remakes such as Firestarter, Carrie, and Pet Sematary. But the King spree isn't sticking solely to the author's best-known books. According to a story in Variety, there's also an adaptation of King's novel Rose Madder in the works, and it's being written by In America writer Naomi Sheridan.
Published back in 1995, Rose Madder centers on a woman who flees her cop husband after many years of abuse. Settling into a new city, she finds work, begins dating, and generally sets about trying to build a new life away from the shadow of her husband's hand. While trying to pawn her engagement ring, she falls in love with and purchases a painting of a woman in a gown. And, in typical King fashion, that's when shit begins to get weird.
Rose Madder will be only the second produced film credit for Naomi Sheridan, following up on 2002's In America. She co-wrote that film with her sister, Kirsten, and her father, director Jim Sheridan. That film earned the three of them an Oscar nomination for Best Original Screenplay.
Rose Madder received its financing courtesy of Palomar Pictures and Grosvenor Park, and is expected to go into production sometime in the next 18 months.
Your Daily Blend of Entertainment News
Thank you for signing up to CinemaBlend. You will receive a verification email shortly.
There was a problem. Please refresh the page and try again.