Steve Martin And Diane Keaton Reuniting On Screen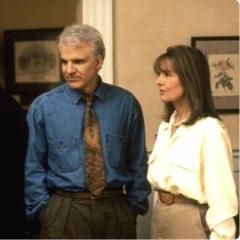 Steve Martin and Diane Keaton kind of defined on-screen couples for me when I was about 8, and the Father of the Bride movies were popular repeat rentals in my house. And they do so well together! In the intervening 15 years or so, neither has done too well for themselves—Keaton is stuck in bland comedies like Because I Said So and Mad Money, while Steve Martin, except for his great cameo in Baby Mama, has been in truly lame comedies like Cheaper by the Dozen.
Clearly, the best solution for these two is a reunion. Variety is reporting that Martin will produce his spec script From Zero to Sixty, and will co-star with Keaton as a couple. No telling what the script's about, but you could say that Keaton getting pregnant late in life in Father of the Bride 2 was a zero-to-sixty kind of situation, right? No? Stretching it a little?
Martin's last screenwriting credits were The Pink Panther and Shopgirl, neither of which were remotely spectacular, but he also gave us the brilliant Bowfinger about ten years ago, so there's reason to be hopeful. Either way, he'll hopefully give a decent part to the wonderful Keaton, who really didn't deserve anything to deserve the career doldrums she's found herself in. Martin, on the other hand, is still threatening us with the upcoming Pink Panther 2. He truly must be stopped.
Your Daily Blend of Entertainment News
Staff Writer at CinemaBlend