Stunning New Cast Images From Julie Taymor's The Tempest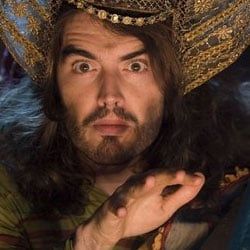 We haven't heard much about Julie Taymor's The Tempest since it was announced in August that it would headline the New York Film Festival last month, but we just got our hands on a pile of new photos that reminded all of us that the new take on a 400-year-old Shakespearean play is still here and in a big way.
The images released are nothing short of stunning, much like every other Julie Taymor piece. Across the Universe and Titus were both visually stunning regardless of what you thought of the film, and that trend seems to have carried over into her latest. Here you'll see all of the many stars in their period regalia controlling fire, looking royal, or creeping around a desert.
As you can see, the film stars Helen Mirren as Prospera (from Prospero in the original play), Djimon Hounsou, Russell Brand, and Alfred Molina just to name a few, but the list of stars is seemingly endless. Scope out a few of the images below and see the rest in our Blend Film Database. Warning! At least one of these is NSFW. It's this one if you're down with nudity.