Summer Glau Dances With Joss Whedon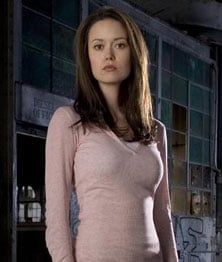 Assuming Terminator: The Sarah Chronicles doesn't go the quickly cancelled route of other recent genre shows like Bionic Woman, Summer Glau may be finally about to make a name for herself. The show is great, she's great, and after 3 episodes the Terminator's slightly sexier transition to television is working like a well oiled killer robot. But for those few of you lucky enough to have seen Serenity when it rolled through theaters for about five minutes, Summer Glaus an old familiar.
Summer first really got America's babe radar going while working for fan-hugged girls-kick-ass director Joss Whedon in the television show Firefly which in turn spawned the Serenity movie. I always thought Summer's character was the weakest and least interesting part of the Firefly universe, but even the worst part of Firefly is still probably better than the best of anything else, so getting Whedon and Glau back together seems like a good idea. Joss is still obsessed with making movies and television shows about women beating up men and Glau is still really good about kicking tough guys in the head. Why not right? Well I'm going to tell you.
In a press conference to promote The Sarah Chronicles, Summer recently told IESB that she's working on a dance movie with Whedon. Not a deadly dance movie, or a movie about dancers who moonlight as vicious killer fembots. Just a dance movie. Because we don't have enough of those. She says of the project, "We've kind of had this idea for awhile but we haven't had much of an opportunity where both of us are available. But it's something that we're working on as much as we can."
I suppose I should give Whedon a little credit for finally doing something that doesn't involve hot babes doing karate… but then I sort of like hot babes doing karate. I do not on the other hand, need to see another awful dance movie. We're already swimming in dance movies. Granted, Whedon's take on the dance movie will probably be better than his competition's, except he's competing against Step Up 2 the Streets. I'm not sure that's something to be proud of.
Your Daily Blend of Entertainment News
Thank you for signing up to CinemaBlend. You will receive a verification email shortly.
There was a problem. Please refresh the page and try again.