Sundance Review: 12th And Delaware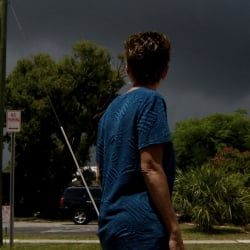 Heidi Ewing and Rachel Grady introduced the world to a gigantic and terrifyingly evangelical movement with 2006's Jesus Camp, and now they're back exploring the cultural divide with 12th and Delaware, a documentary about a Florida abortion clinic with a pro-life "pregnancy counseling center" facing it across the street-- the most literal representation of the abortion debate imaginable.
With quiet objectivity and a willingness to humanize the brash and unwavering protesters who hover outside the clinic each morning, Ewing and Grady effectively explain the high stakes felt on both sides, and get amazing access to the women who come to both clinics searching for an answer. At church-run pro life center, a woman named Anne talks in whispers with her assistants about patients who seem particularly likely to seek an abortion, and nearly weeps with joy when one decides to keep her child. Across the street, a married couple ferry in their doctor hidden under a sheet for protection, and the wife counsels the potential patients using words like "sweetheart" and "sugar," constantly reminding them that they have the choice not to go through with the procedure.
It's hard to see any film without assuming a pro-left bias, but Ewing and Grady are remarkably even-handed; as protesters fervently pray outside the abortion clinic and refer frequently to the "babies" they want to save, it's hard not to feel their passion for preventing what they believe is murder. The only time when the filmmakers tip their hands is a catchup interview with a 15-year-old who visited Anne's clinic and decided to keep the child. Scared off by literature about the risks of abortions, the girl tries drinking vinegar and lifting heavy things to miscarry, and now seven months pregnant, talks about the social ostracizing that's already begun. It's hard not to feel heartbroken, knowing that a safe and legal option was available, but the girl had simply been scared off by "facts" (like abortion causing breast cancer) that are questionable at best.
The pro-life activists repeat to each other over and over that they will not be outlasted and defeated, and as strict abortion regulations pass in waves all over the country, it's hard not to feel as if scenes like the one at 12th and Delaware in Fort Pierce or the murder of Kansas abortion doctor George Tiller are simply signs of a run-up to a battle on a massive scale. Anyone particularly invested in the debate can see 12th and Delaware as a concise explanation of what the enemy has in store. The rest of us can enjoy a small-scale human drama that says so much in microcosm about our country as a whole.
For more of our Sundance 2010 coverage, click here.
Your Daily Blend of Entertainment News
Staff Writer at CinemaBlend