Sundance Review: The Freebie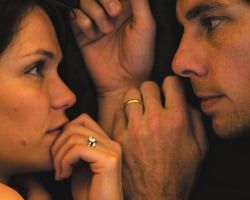 This year's Sundance has been a crash course for me in a little-seen and little-understood pseudo-genre called mumblecore, a.k.a. the indie movies made for practically nothing where everyone talks a lot and doesn't do much. I had seen crowdpleasers like Humpday and more obscure stuff like Alexander the Last, but this year's trio of Lovers of Hate, Cyrus and now The Freebie have convinced me-- mumblecore is the future, despite the terrible name.
The Freebie was my final screening of this year's festival, and it's hard to imagine a more fitting conclusion to a festival that's theoretically about artistic experimentation, risk-taking and honesty. The directorial debut of Katie Aselton, who as an actress has been a mumblecore fixture in movies like The Puffy Chair and Scrapple, The Freebie stars Aselton and Dax Shepard as a thirtysomething couple who take a pretty simple dare-- for one night, they can sleep with someone else.
It's a concept that sounds like a Hollywood comedy, and indeed it's about to be one, but Aselton is focusing on the shockingly, painfully honest truth about that kind of deal. Flashing between the couple's decision to go for it and the aftermath of their night off, Aselton examines the fragile levels of trust between a couple that thought they were safe, and how little it takes for self-doubt to completely destroy everything.
Shot in a handheld style and using improvisation in a way familiar to anyone who's seen a film by the Duplass brothers (Aselton is married to Mark), The Freebie is another entry in the mumblecore sub-genre, and a particularly strong one. Dax Shepard, known for doofus roles in movies like Let's Go to Prison and Employee of the Month, is astonishingly vulnerable as a guy afraid to admit he's afraid, while Aselton is the movie's fulcrum as a woman who puts all her trust in her husband, until she thinks she can't.
Much as Humpday took a ludicrous premise-- two straight guys making a gay porn together-- and said volumes about male friendship, The Freebie takes a situation that would ordinarily just be a fantasy and follows it to its logical, devastating conclusion. It's a comedy, sure, but the movie also includes a lot of facts about relationships that we're normally not ready to hear. With a sure hand both behind and in front of the camera, Aselton exposes a raw nerve within all of us, and even entertains in the process.
For more of our Sundance 2010 coverage, click here.
Your Daily Blend of Entertainment News
Staff Writer at CinemaBlend