Sundance Review: Good Hair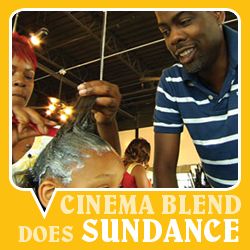 After Chris Rock's daughter asked him why she didn't have "good hair," the actor/comedian embarked upon a journey to explore the history and culture of African American hair in America. The documentary, which is directed by Jeff Stilson and narrated by Chris Rock, follows Rock as he interviews various African American celebrities and travels across the globe visiting hair salons, styling battles, laboratories and Indian temples to learn about African American hair culture.
Anyone familiar with Chris Rock would expect the documentary to be full of laughs and in that respect, the film doesn't disappoint. Rock's humor, including random jokes and comments as he interviews people, comes through in almost every scene. While the film doesn't appear to be meant to poke fun at hair culture, seeing it explored from Chris Rock's perspective adds a layer of comedy that makes the film entertaining as well as educational. Everything from hair relaxers, perms, weaves to the cost of styling and the hair care industry in general are explored at length during the 95 minute documentary. Celebrities ranging from Ice-T, Nia Long, Raven Symone and Salt 'n Pepa to Maya Angelou and Reverend Al Sharpton are interviewed throughout the film. They share their insight on their own hair as well as their thoughts on hair culture in general.
Some of the other interesting segments in the film include Rock interviewing stylists about children as young as three years old getting perms, Rock interviewing a scientist about the chemical make-up of hair relaxer and what it does to the skin, Rock's trip to India to see where some of the hair used in weaves comes from and the self-esteem aspect related to women and their hair in black culture today. It was also fascinating to learn just how much some women are spending on their hair. Apparently, some weaves cost thousands of dollars and it's not just celebrities and other upper-class people who are shelling out that kind of money so their hair looks good. There's also a hilarious segment focusing entirely on whether or not to touch a black woman's weave during sex.
The only aspect of the film that I thought could've been shortened or else, cut out entirely, had to do with the styling battles. A fair portion of the film focuses on a styling competition wherein stylists perform on stage while cutting hair. It's basically a big, flashy stage event that's more about who puts on the better show and less about the actual hair-cutting involved. The segment, which is featured numerous times throughout the documentary pales in comparison to the more entertaining portions of the film, a lot of which can be credited to Rock's humor and the candidness of the celebrities being interviewed.
Rock succeeds in combining humor with genuine curiosity as he explores African American hair culture. This is a documentary which, even if you know little to nothing about the subject, you're sure to enjoy.
Kelly joined CinemaBlend as a freelance TV news writer in 2006 and went on to serve as the site's TV Editor before moving over to other roles on the site. At present, she's an Assistant Managing Editor who spends much of her time brainstorming and editing feature content on the site.
Your Daily Blend of Entertainment News
Thank you for signing up to CinemaBlend. You will receive a verification email shortly.
There was a problem. Please refresh the page and try again.