Super 8 Casting Associate Discovered To Be A Convicted Child Molester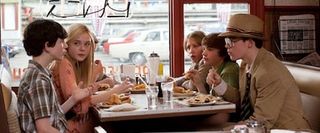 Much in the way that parents likely hope to send their kids to school, or to some extra-curricular activity without having to fear that the adult they've left their child with might be a sexual predator, it's probably a fair assumption to say the same applies to parents of children in the entertainment industry. So, to say that the news that a casting associate for a number of well known kid-centric movies was recently discovered to be a convicted sex offender is disturbing, is probably an understatement.
The L.A. Times posted the story, stating that last week, it came out that the casting associate for a number of big movies involving children did five years in prison for kidnapping and molesting an 8-year-old boy fifteen years ago. Jason James Murphy, who has been going by Jason James, is credited as a casting associate for J.J. Abrams' Super 8, which follows a group of children who witness a train crash and end up getting caught up in a mess of drama and adventure (that's the non-spoiler description for those of you who haven't seen it). Murphy was also involved in the casting for Cheaper By The Dozen 2 and School of Rock, among other films.
Abrams commented on the situation, expressing shock and devastation:
The Los Angeles police are investigating the situation to determine whether or not Murphy was complying with the state's requirements for registered sex offenders. The Times goes on to say:
J.J. Abrams, and Super 8 casting directors April Webster and Alyssa Weisberg all claim to have no knowledge of Murphy's background.
Meanwhile, as Deadline notes, the situation has child protection advocates up in arms. It's possible that this will result in tighter screenings for union members before they're cleared to work with children.
Deadline's article says the police say that so far they have no reason to believe Murphy molested anyone else. Not all of the movies on his list of credits are kid-focused, but enough of them are for this to be considered, at the very least, inappropriate, if not predatory and illegal. For the sake of the kids involved in the casting of any of these movies (whether they made it into the movie or not), let's hope that inappropriateness is the worst offense made.
Your Daily Blend of Entertainment News
Thank you for signing up to CinemaBlend. You will receive a verification email shortly.
There was a problem. Please refresh the page and try again.