Super 8 Set Photos Reveal The 70s Small-Town Setting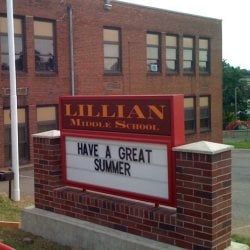 We don't know much for sure at this point about J.J. Abrams' Super 8, even though Kyle Chandler and Elle Fanning have reportedly been cast in lead roles and filming is set to begin any minute now. So keeping in mind that we're really scrapping for information about this thing, it is kind of cool to check out the set photos snapped by an AICN reader in Weirton, West Virginia, which will be standing in for Lillian Heights, Ohio in the film.
With Super 8 taking place in 1979, many of the town's locations have been decked out with late-70s era signage, including a grocery store stocked with old-school products and even an arcade advertising "pin-ball" and "skee-ball." The attention to period detail fits in with what we've heard about the movie being an homage to early-era Spielberg films like E.T., but it also reminds me of Matt Reeves's 1983-set Let Me In, which stayed true to all kinds of nostalgic memories from the era. The period setting wasn't really all that important to the story of Let Me In, and who knows how much it will matter in Super 8 either, but it must be fun for those directors who grew up at the time (Abrams was 13 in 1979) to recreate their childhoods on a Hollywood budget.
Check out some of the photos below, click on them for AICN's full gallery, and hope for more tipsters to bring us some info from this crazy secretive set.
Your Daily Blend of Entertainment News
Staff Writer at CinemaBlend