New Super 8 Viral Site Unlocks Some Archival Footage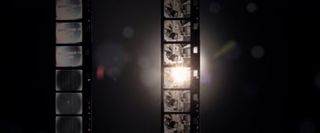 Now that an HD version of the brand-new and spectacular Super 8 trailer is available, it's time for everyone's favorite part of the J.J. Abrams trailer experience: finding the Easter Eggs! And at the tail end of the latest trailer, hidden in the lens you see right before the trailer, there's a doozy: the URL s8editingroom.com, which takes you to a section of the official movie website. Here's a screenshot of the moment if you need proof:
The very nicely designed site eventually takes you to an archival film that's mostly just missing clips, except for a few brief glimpses of scientists in white coats, conducting experiments on… well something. Basically all you can hear is "even more surprising were their biological attributes, most remarkably…" Given that the kids who star in Super 8 seem to be encountering some kind of alien being escaped from a lab, it's likely what we're seeing is the scientists investigating the alien life forms.
More than anything the film reminds me of all the Dharma films they found in the hatch on Lost, another example of J.J. Abrams' marketing genius. Will we be finding more film strips as we get closer to the release date, like they did when they discovered new hatches on the island? Will Dr. Marvin Candle be involved somehow too? Head over to the Editing Room site for yourself, take a look and let me know if I missed anything. Super 8, as if you could have forgotten, hits theaters on June 10.
(Thanks to ReelZChannel for the tip on the hidden link)
Your Daily Blend of Entertainment News
Staff Writer at CinemaBlend