Super Bowl Warm Up: The Best Football On Film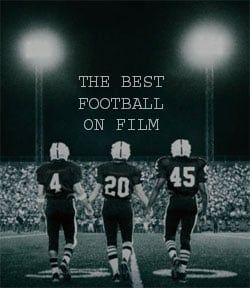 America has football on the brain, and so does the gang here at Cinema Blend. Everyone that is, except me. My sports lust begins with the NHL and ends with the NBA. I'm not sure my wife could put up with me adding another sport into my watching repertoire. So while I'll be glued to the Super Bowl, it'll only be because society has pressured me into feeling like I have to, and because I really like watching the commercials. I'm the product of a consumer generation. I sure do miss those Budweiser frogs.
I may be an NFL idiot, but the rest of our writers aren't. Four of our most football savvy agreed to take a moment to back me, CB's Head Honcho, up by providing some credibility as we wax poetic for all of you about our favorite pieces of pigskin celluloid. If you're looking for something to watch before the big game while you injest pre-kick off cheesy poofs, then try one of these four movies recommended by me and the grittiest of our gridiron writers:
Josh Tyler feels Invincible.
Maybe this one's a little to recent to be on this list, since it only came out in 2006. But the story of Vincent Papale was unfairly overlooked in theaters and it's stuck with me. I hate to use the word "hero" when talking about sports icons, but if you have to idolize a guy who throws around a ball for a living, Vince Papale is the one to pick. Mark Wahlberg stars in a film based on real life Papale, a 30-year-old bartender who plays football better than anyone in his neighborhood. When the Eagles hold open tryouts, he joins hundreds of other Philly natives in taking a shot at changing his life. Against all odds, running entirely on iron-gutted determination, Vince makes the team as a walk on. Sports movies are a dime a dozen, but Invincible lifts itself beyond the genre to tell the simple, true story of a man beating the odds through sheer force of will. Maybe Vince Papale isn't a hero, but like Rocky, Rudy, or any of the other classic sports figures we idolize, but he comes damn close.
Mack Rawden sings the Varsity Blues.
Brian Robbins' 1999 football film Varsity Blues is without question the most needlessly emotional, absurd, hormonal depiction of men throwing a pigskin ever conceived. It's like a raunchy, hastily thrown together public service announcement for the MTV generation, informing Ritalin-hoarding, teenage douche bags about the dangers associated with racism, sexism, homophobia, complacency, whipped cream bikinis, verbal abuse, adopting a pig, puke and rallying, stealing a police car, and of course, telling Jon Voight to fuck off. Somehow, it touches on all these issues in less than two hours. I try to watch it at least once a month to remind myself how awesome my own life is. Plus, it's Mean Girl Regina George's all-time favorite movie. I'd endorse her fornicating with James Van Der Beek because let's be honest: they'd make some good looking children, and if there's one thing this world needs, it's hot, sexy children with good passing accuracy, dreamy eyes, and hair full of secrets.
Ed Perkis shines under Friday Night Lights.
Friday Night Lights is the greatest football movie ever because it is a movie first and a football movie second. The football action, while intense, realistic, and emotional, takes a back seat to the intense, realistic, and emotional drama showing how high school football consumes portions of small towns in America for both good and bad. Shot almost in documentary style by director/co-writer Peter Berg, everything feels authentic. The hero-worship of the high school football team in Texas is portrayed, but Berg and co-writer David Aaron Cohen show the grainy side as well. Derek Luke, as star running back Boobie Miles, is tossed out like so much trash when a knee injury makes him useless to the team. When the current quarterback (a phenomenally unsure of himself Lucas Black) is approached at the local Dairy Queen by people and asked to hold their baby in a picture, you wonder how you would have handled something like that. There are a few rah-rah games, but even the ending doesn't follow the typical Hollywood formula. Billy Bob Thornton as the coach sums up everything that is great and heartbreaking about football by saying to his team, "Being perfect is about being able to look your friends in the eye and know that you didn't let them down, because you told them the truth. And that truth is you did everything you could. There wasn't one more thing you could've done. Can you live in that moment as best you can, with clear eyes, and love in your heart, with joy in your heart? If you can do that gentleman -- you're perfect!"
Mariana McConnell horse-collars Ed and takes her shot under the Friday Night Lights spotlight.
No Country For Old Men would have you believe that west Texas is a wasteland where evil runs free. This may be true, but if there is hope to be found amongst the abandoned oilrigs it is called football and its film is Friday Night Lights. Adapted from H.G. Bissinger's book about the 1988 Permian High School football season in Odessa, Texas, Friday Night Lights is my favorite football film because it's not about football at all. It's about the struggle against insignificance in a world that doesn't care. The true tale of the '88 Permian Panthers and Coach Gary Gaines, played perfectly by Billy Bob Thorton, has never left me. Director Peter Berg deftly sets up a visual juxtaposition between listless Odessa and the thrill of Friday night football. In town the storefronts are shuttered, the streets burn quietly, and highway stretches past forever, but inside the sparkling stadium it's all action and noise and those bright lights. For the boys on the team and for the town itself, football is not just a pastime: It is the only way out. Substitute anything you like for football – literature, politics, rock 'n' roll - but the dream remains the same.
Jarad Wilk approves of Necessary Roughness.
What do you get when you put an aging quarterback, a science professor, a large Samoan, an Aussie rugby player, a lightning fast wide receiver who couldn't catch a cold, a cowboy, a martial artist, a female kicker with looks to kill, and a coach with indigestion on the football field? Give up? You get your fighting Texas State Armadillos from Necessary Roughness. What makes this 1991 football comedy the perfect pick for Super Sunday? It's a creative and original concept: a one-time prestigious university loses its star football players due to NCAA infractions, and they're forced to go to the streets and hold tryouts for anyone on campus with talent. However, once the team is picked, the dean of the school (Larry Miller) has a hard-on for kicking the team, and its coaches (Hector Alizondo and Robbert Loggia), while they're down - he takes away some of the best players due to academic ineffficiency, and the team is forced to play iron-man football. The on-field action is actually pretty good as far as football movies go - big hits, big laughs, Rob Schneider doing his "making copies" routine, and some off-the-wall plays that will baffle any great football mind. And the story is actually not half bad - a team of idiots bonding and coming together for their moment of glory behind their 40-something-year-old QB (Scott Bakula) and sciene teacher (Sinbad). It's a heartwarming story, just like Rudy, only without the insightful janitor clapping at the end.
This poll is no longer available.
Your Daily Blend of Entertainment News
Thank you for signing up to CinemaBlend. You will receive a verification email shortly.
There was a problem. Please refresh the page and try again.