Superman Co-Creator Shuster Had A Secret Life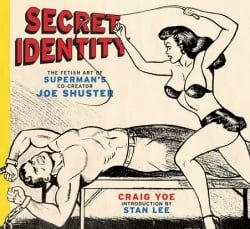 A few months ago I caught a story on NPR's Fresh Air about a new book that exposed a very different side of the career of Superman co-creator Joe Shuster. Apparently having been screwed over by DC Comics after co-creating the Man of Steel, Shuster was forced to earn his money illustrating the S&M comic series The Nights of Horror, funded by the mob and depicting all kinds of kinky business that would have made Lois Lane blush.
Except, of course, that Lois Lane was in them. Author Craig Yoe discovered Shuster's authorship of the book when he recognized the visual similarities between the dominatrix in Nights of Horror and Metropolis' sassiest reporter. Now, happily for all of us, the Gotham Group has picked up the film rights to Yoe's book Secrety Identity, and will somehow tell a story about Shuster's involvement in the seedy side of comics in the 1940s.
The story actually gets crazier from there, as described by Variety. In the early 1950s a gang called the Brooklyn Thrill Killers claimed their vicious crimes were inspired by the Nights of Horror books, and the whole thing led to a censorship case that went before the Supreme Court in 1954. Yes, for once, this is a comic book movie that pretty much everyone can agree we want to see.
Your Daily Blend of Entertainment News
Staff Writer at CinemaBlend