Sylvester Stallone Highlights A Huge Bizarre Cast In Trailer For Reach Me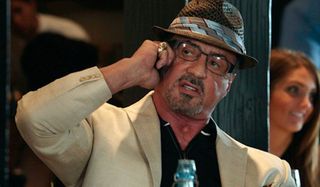 Above is the trailer for Reach Me, starring a spectacular direct-to-DVD cast if anyone's ever seen one. This Millennium Entertainment production packs in the Millennium all-stars in a story about a self-help guru who has vanished, leaving behind a book that has changed the lives of an all-star ensemble of actors.
Reach Me comes from writer-director John Herzfeld, and considering the life-affirming angle of the trailer, that's a bit bizarre. Herzfeld has made a few pretty nasty movies, none moreso than 15 Minutes, which relies on the novelty of Robert De Niro being tied to a chair and tortured to death. His debut was the ill-advised John Travolta romance Two of A Kind back in the '80s, and his sporadic theatrical work has sent him to television in recent years. His greatest achievement, however, may have been giving Charlize Theron her first standout role in the Pulp Fiction wannabe 2 Days In The Valley. Few women have been as sexy as Theron is in that movie.
There's a whole bunch of actors who have previously worked with Herzfeld here. That's Danny Aiello of 2 Days In The Valley as a priest, and Kelsey Grammer from 15 Minutes as some sort of upper class jerk (what a stretch!). And there's Millennium Films day-players like Thomas Jane (as a vengeful gunman), Tom Sizemore (sleazy mob boss?) and Tom Berenger (sad boat man!). Also, of course, fellow Expendables 3 cast members Sylvester Stallone (the world's least convincing newspaper editor!) and Terry Crews (seriously, why?). Sly was also able to get a role for his brother Frank, because if you can get Frank Stallone a role, you do.
Head further down the cast list, and it gets even more amazing. That's Nelly! Nelly, giving some sort of pep talk before, later in the clip, beating the crap out of someone. NELLY CONTAINS MULTITUDES. There's also The Closer herself, Kyra Sedgwick dealing out some prison justice, and the most unlikely duo of hired muscle, The Departed goon David O'Hara and Omari Hardwick. Kevin Connelly of Entourage seems to be Berenger's son, while a suddenly-svelte Cary Elwes is lovin' 'em and leavin' 'em (specifically Agent Of S.H.I.E.L.D.'s Elizabeth Henstridge) . And how about Hell's Angel Chuck Zito, as well as Darius "Eddie Winslow" McCrary? Hey, somebody check. Is Danny Trejo in this movie? YES, DANNY TREJO IS IN THIS MOVIE.
Reach Me doesn't have a release date, and it's very possible it will go straight to DVD. But a cast like this screams to be on the big screen. Because as Terry Crews so eloquently puts it, "It's not about PEOPLE... it's about... people." Classic Millennium Films poetry right there. No wonder everyone wants to work with them.
Your Daily Blend of Entertainment News
Thank you for signing up to CinemaBlend. You will receive a verification email shortly.
There was a problem. Please refresh the page and try again.