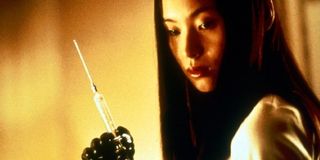 We all knew that this day was coming. They ran out of small-time J-horror films to remake, so they're finally taking on the big bad of the genre. That would be Takashi Miike's gonzo horror classic Audition - long thought to be untouchable in Hollywood by fans and executives alike. Well guess what, people? Audition is about to be touched. It's about to be touched hard.
Deadline reports/warns that superproducer Mario Kassar has been put in charge of an English-language redo of Audition, bringing on filmmaker Richard Grey to write and direct. The claim is that this movie is based more on the 1997 novel by Ryu Murakami than the Miike adaptation of the same name.. But come on: you know that the ad campaign for this film is going to focus on the specific iconography that made the original Audition a horror classic. The rubber gloves. The wires. Kiri-kiri-kiri-kiri-kiri. Nightmare fuel, man.
In case you haven't seen Audition, make sure to watch it with your family! The film follows an aging widower/producer who has since retired from his work as a filmmaker. When his son convinces him that it's time to rejoin the dating pool, he does so by holding auditions for a non-existent new movie hoping that one of the women who comes by will wind up being his new wife. This search winds up going very, very wrong when a girl who is just a tad bit off goes out for the part. To be honest, the wave of creepy reality TV dating shows over the last few years remind me a whole lot of Audition, so it wouldn't be a surprise to see the American version heavily emphasize the process of weeding out the girls our leading man (renamed Sam Davis) rejects in favor of his would-be ideal (now to be named named Evie Lawrence). Here's a trailer for the original film.
Richard Gray is perhaps not a filmmaker whom most of you know by name. His next film is a crime drama called The Lookalike, with Community's Gillian Jacobs and Justin Long. His follow up project is set to be the dark comedy thriller Sugar Mountain with Jason Momoa and Cary Elwes - which sounds a lot like it could go straight-to-DVD. In other words, Gray is a guy coming from a modest genre background. He'll have the backing of Kassar, a former Carlco executive who produced First Blood, Total Recall, Terminator 2: Judgment Day, Basic Instinct, Universal Soldier and Showgirls . This is a guy you want on your side.
Of course, I can't imagine a single way the American public is going to endorse the story of Audition. The original film is famously slow, with no subplots to distract the viewer from the fact that the lead in this movie is treating women like objects in order to find his mate. It's also got the sort of maddening last thirty minutes that, stylistically, are not gonna fly with the masses, jumping in and out of the dream world in a disorienting manner. And then there's the issue with the very X-Rated gore... yeah. You're not gonna be able to pull that off. Guys, we've been over this, right? Maybe they'll amp up the kink aspects of the audition? Maybe it's more of a romance? None of these are good ideas, so we're just brainstorming here, folks.
Your Daily Blend of Entertainment News