Taylor Kitsch Talks Working With Andrew Stanton On John Carter Of Mars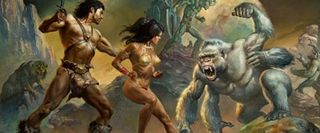 Taylor Kitsch may not have gotten a Gambit spin-off courtesy of X-Men Origins: Wolverine, but that's not to say he doesn't have a shot at leading a franchise. On March 9th, 2012, we will see Kitsch grace the big screen as John Carter in John Carter of Mars. The film is based on the first book of Edgar Rice Burroughs' 11-volume Barsoom series. While promoting his new film, The Bang Bang Club, at the Tribeca film festival, Kitsch took the time to spill on a few John Carter of Mars details.
Just the other day, Kitsch teased the trailer telling MTV, "All I'll say is, good luck piecing it together. You're going to be like, 'How the f--- does this all fit together?'" Unfortunately the trailer talk wasn't a predecessor to the actual release because about five days later, we've yet to see the promo. Kitsch got a laugh out of my sky-high anticipation and explained, "You won't see it for a bit. There's a couple things that need to be tweaked in the sense of just the facts and stuff."
While apparently we do have a ways to go before we see any of the footage, Kitsch did have quite a bit to divulge about director Andrew Stanton. John Carter of Mars is a major shift for Stanton as he's known for creating some of the best of the best in the world of Pixar animation having wrote and directed Finding Nemo, WALL-E and more. While one may suspect moving from animation to live action would be a rocky transition, Kitsch explained, "You've got to remember, when he gets performances out of these characters in his animation is he's working with great actors as well." Kitsch particularly appreciated Stanton's personal approach to directing actors. "He's directing me a lot different than he directs anyone else." Kitsch added, "He's with you on this journey and very open to listening and it's more of a collaborative effort and that's when you get the best stuff."
And, of course, in terms of the cast, Kitsch is in great company and he knows it. "I wake up, I'm working with [Willem] Dafoe, [Mark] Strong, I've got Lynn Collins as Dejah Thoris." Before wrapping up, Kitsch humbly added, "I'm a lucky man to go to work with these guys. It's awesome."
Hear all about John Carter of Mars straight from Kitsch himself in the video clip below.
Watch the rest of our full, in-depth interview with Taylor Kitsch right here.
Your Daily Blend of Entertainment News
Staff Writer for CinemaBlend.