There Could Be Life After Dollhouse For Joss Whedon And Eliza Dushku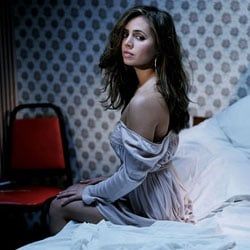 Dollhouse may have ended after just two seasons but neither Joss Whedon nor Eliza Dushku hold any grudges. In fact, the duo might re-team for a feature project. The news comes from Hollywood Life who spoke with Dushku while at the premiere of Discovery's Life.
Dushku wouldn't let any details slip, but did say, "I would say that we would [be working on something new very soon]!" She added, "I think we're going to work on a kickass feature together that we've been thinking about for a few years." Slash Film suggests this could be his long lost fantasy thriller Goners. The project was first announced by Variety back in September of 2005. By May of 2009 no progress had been made, but Whedon addressed the topic during a lecture at Wesleyan University. According to The Cinema Source, Whedon said the film was "put on the back burner" but generally thought the idea was dead. He described the movie as a piece about "a girl named Mia, people know that, who sort of sees in a mystical way the underbelly of the city and of human society, and goes through a kind of extraordinary hell." Well, regardless of what that means, if Goners is back on, Dushku could be Mia.
If that's not enough skepticism for you, Dushku also offered her thoughts on the much speculated about Ghostbusters 3. When questioned about the potential of being part of the flick, she explained, "I don't know anything, I don't have a script – it's still a rumor thing right now." She continued, "But I would be excited to do it! Dan is a friend since I was a young [girl], and I love [original star Sigourney Weaver] and would love to zip on a proton pack!"
Whether or not these plans come to fruition, good for you Eliza! She hasn't had the most successful past few years, with a handful of ignored films and two failed TV shows, but her persistence is bound to pay off soon. Right?
Your Daily Blend of Entertainment News
Staff Writer for CinemaBlend.