New Tinker Tailor Soldier Spy Trailer Borrows Music From Magneto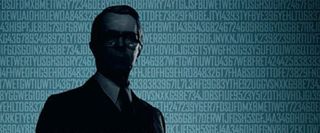 Tinker, Tailor, Soldier, Spy seems like the kind of chilly, refined and tense Cold War spy thriller that requires a group of top-flight British actors to pull off-- and lucky for this movie, it's got pretty much all of them on board. The movie's refinement and potential for suspense seems to be the biggest selling point, so I'm not sure why the latest trailer, which you can watch below, leans so heavily on crashing loud music that seems cribbed directly from the Inception score (in fact, it's from the score to X-Men: First Class, believe it or not).
Thankfully the booming score doesn't cover up the film's massive appeal, watching Gary Oldman playing a retired MI-6 spy brought back in to ferret out a mole in his own organization. He's surrounded by the aforementioned murderer's row of talent, so deep that I can't even spot Tom Hardy in the lineup. Take a look at the conspiracy as it unravels below:
Based on the novel by John le Carre, which was adapted into a 1979 film of the same name, Tinker Tailor Soldier Spy is looking like a gloomy, thoughtful, total blast of a fall prestige movie, and I'm already dying to know which of the giant cast of actors we'll get to see facing off against each other. Will Tom Hardy pull out some Bronson-like punches against Colin Firth somehow? Will Benedict Cumberbatch get all Sherlock smart against the sly Mark Strong? It's like fantasy football for fans of British actors, but it's actually real!
It's also worth noting that the movie is directed by Tomas Alfredson, director of the original Swedish Let The Right One In who's got just as much talent as his starry cast. Tinker Tailor Soldier Spy comes to theaters in the US November 18 this year.
Staff Writer at CinemaBlend
Your Daily Blend of Entertainment News
Thank you for signing up to CinemaBlend. You will receive a verification email shortly.
There was a problem. Please refresh the page and try again.