When Tom Cruise's Mummy Reboot Will Actually Happen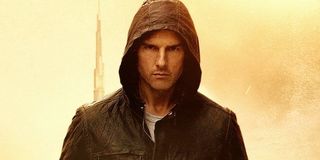 Over the course of his lengthy career, which somehow reaches all the way back to 1981 (seriously, the dude does not age like the rest of us), Tom Cruise has battled aliens multiple times, sucked blood as a vampire, and even belted out rock anthems onscreen. Though his resume is pretty light on horror, he's helping to bring one of Universal's genre classics back to the big screen with The Mummy, and now we know when we'll see it for ourselves.
Things are coming together for Universal's latest attempt to revamp their back catalog of classic monster movies. Now that Tom Cruise, one of the biggest movie stars in the world, is solidly entrenched in the lead (there was some earlier back and forth about whether or not he was going to be involved), Variety reports that the studio has even set a release date. And it becomes the latest in a long line of titles that have been shuffled around this week. Originally slated to open March 24, 2017, The Mummy has been pushed back a few months and will now open June 9, 2017.
This is a prime release date, and if nothing else, it appears that Universal has a great deal of confidence that The Mummy will be a successful venture. And they should be, there are a lot of promising pieces in place. Not only is Tom Cruise set to take the lead, which should be a damn fine time, but mega producer Alex Kurtzman is on board to direct—though he's only helmed a handful of features, he has helped usher dozens of movies and TV shows into existence, including the likes of Star Trek. On the writer side, Jon Spaihts of Prometheus and Doctor Strange, is handling the scripting duties.
There aren't a ton of plot details available at the moment, but it does appear that The Mummy is doing something very different from its predecessors. The great Boris Karloff starred as the titular creature in the 1932 original, but this time relative newcomer Sofia Boutella (Kingsman: The Secret Service, Star Trek Beyond) will fill that role. Having a female mummy, at least as far as I can tell, is a first.
Also, unlike the three Brendan Fraser starring Mummy films, this one won't be a period piece. The action, as we understand it, will go down in the present day.
The Mummy could be a lot of fun on its own, but it also represents the start of an expanded Universal monster universe similar to what Marvel and DC are currently doing with superheroes. 2014's Dracula Untold was intended to be the jumping off point, but that movie didn't perform like the studio hoped, so The Mummy may very well represent a kind of re-launch, a mulligan if you will.
Your Daily Blend of Entertainment News
Thank you for signing up to CinemaBlend. You will receive a verification email shortly.
There was a problem. Please refresh the page and try again.