Tom Hanks And Others Urge SAG Not To Strike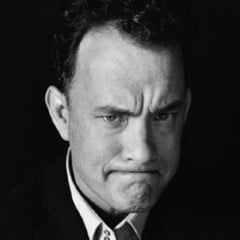 The idea of yet another labor strike in Hollywood, so soon after the seemingly endless writer's strike, isn't appealing to much of anyone. And yet, the Screen Actors Guild is encouraging its members to vote against a contract accepted by another actors guild, AFTRA. With the strike deadline of June 30 looming, The Hollywood Reporter says that Tom Hanks is lending his high-profile status to trying to get this show on the road.
Hanks signed an e-mail message, along with 100 other actors, encouraging SAG to go ahead and accept AFTRA's contract. Other signees who aren't A-list movie stars include Jeffrey Tambor (a.k.a. Papa Bluth from Arrested Development) and James Cromwell (a.k.a. the farmer from Babe, Prince Philip from The Queen, and other people in about a million other movies). The e-mail says, in part, "We are voting yes because if this contract doesn't pass, it will set us back to a place from which we may not recover." What that place is isn't exactly clear in the article, and is probably even fuzzier given that the contract negotiations thus far have been shrouded in secrecy.
All I can really say is thank you, Tom Hanks, for trying to bring some reconciliation into a situation that seems to have gotten out of hand. As a complete outsider I have to ask, if one union can come to an agreement, why not another? And, even more importantly, why has seemingly no one learned from the writer's strike? After the money and goodwill lost in that strike, you would think the actors would be avoiding a similar fate. Unfortunately, if no one listens to Forrest Gump, we may be headed for another work stoppage and even more hard feelings
Staff Writer at CinemaBlend
Your Daily Blend of Entertainment News
Thank you for signing up to CinemaBlend. You will receive a verification email shortly.
There was a problem. Please refresh the page and try again.