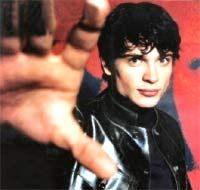 It looks like Tom Welling may soon be following in the well traveled footsteps of Michael J. Fox and Jason Bateman. He's doing a Teen Wolf movie.
That's the rumor being circulated by the good folks over at Dark Horizon. They say location scouts have been spotted lurking around high schools in Little Canada and that they're looking for somewhere to shoot a Teen Wolf remake. Or… they're just a vicious gang of pedophiles and when they got caught that was the first excuse that popped into their head.
Welling actually seems a little old to be playing Teen Wolf, doesn't he? The Michael J. Fox character was a kid, and Fox has always been good at looking young. Welling no longer looks like a teenager, he's kind of past that place, or at least he should be. 'Smallville' is already turning into 90210, maybe Welling should be looking for a part in a Buffy the Vampire Slayer remake instead.
Your Daily Blend of Entertainment News