Tony Award Nominee Cristin Milioti Weds DiCaprio In Scorsese's Wolf Of Wall Street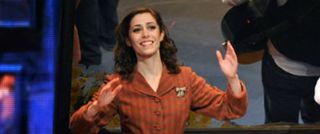 For their fifth feature film together, Martin Scorsese and Leonardo DiCaprio are heading to the New York financial district in the 1990s. The Wolf of Wall Street, an adaptation of Jordan Belfort's memoir by Boardwalk Empire and The Sopranos' Terrence Winter, is about the rapid success, excessive lifestyle and ensuing fall of the morally bankrupt young stock broker. Belfort's shading dealings would eventually put him in prison for just under two years.
Have you seen the film Boiler Room? Well, Belfort founded the fraudulent brokerage firm which served as the inspiration for that film as well, however, with Mr. Scorsese at the helm, not to mention the all-star cast that he's assembled so far, expectations for the legendary director's next picture are a little higher. And speaking of the all-star cast, one that currently includes Academy Award nominees DiCaprio and Jonah Hill, Emmy winner Kyle Chandler, last year's Best Actor Jean Dujardin and, now, Tony Best Actress nominee Cristin Milioti.
Variety reports that Milioti, Tony nominated for her role as 'Girl' in the Broadway adaptation of Once, will play Belfort's Italian American first wife, a hairdresser who is a devout spouse and heartbroken when she learns of his extra-martial shenanigans. Milioti has done a lot of stage work but you can catch her in comedian Mike Birbiglia's Sleepwalk With Me come August. The Wolf of Wall Street is scheduled to start production in late summer in New York City which would allow the young actress to continue her run in Once on Broadway.
Also, it's worth noting that this is Scorsese's first film set in NYC since his Gangs over a decade ago and with this cast and Winter behind the screenplay, sounds like we're in for a great homecoming for Mr. Scorsese. Look for The Wolf of Wall Street awards season 2013.
Your Daily Blend of Entertainment News
Thank you for signing up to CinemaBlend. You will receive a verification email shortly.
There was a problem. Please refresh the page and try again.