Tribeca Film Festival Review: Elaine Stritch: Shoot Me Is A Deeply Funny Delight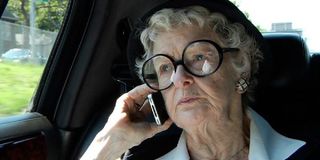 Whether you know and adore Elaine Stritch for her decades-long Broadway career, her distinctively boozy and brassy singing style, or her wickedly winsome guest appearances as Jack Donaghy's mom Colleen on 30 Rock, Elaine Stritch: Shoot Me is an absolute joy. This up close and personal documentary follows the incorrigible singer/actress/outlandish star as she readies for her 87th birthday as well as her latest club tour "Singin' Sondheim … One Song at a Time." During this span, we see Stritch hard at work, rehearsing her song and dance numbers with music director Rob Bowman, sucking up the adoration of admirers as her still enviable stems tug her steadily down New York's bustling sidewalks, and shooting her character's final scenes on 30 Rock. And with every sturdy black-stockinged step, Stritch does it her way complete with self-deprecating humor, jaw-dropping frankness, and radiant charisma.
"It's wonderful being almost 87," Stritch says with her trademark deadpan delivery, "You can get away with just about anything." This point is proven again and again as she greets friends and family with a sharp wit and barbed remarks that earn knowing laughs and smiling sighs from her audience on and off screen. Of course, this fearless irreverence is a major part of why audiences adore her. Everyone from Tina Fey and Alec Baldwin (whom Stritch affectionately dubs "Joan Crawford"), to her old Alcoholics Anonymous friends describe Stritch as sometimes hard to handle, but each and every one of those interviewed admits she's worth it. Her work still stings with biting comedy and poignant moments of pathos, both of which first-time director Chiemi Karasawa captures in this inspiring and entertaining portrait doc.
Amid her flurry of rehearsals, TV shoots, and general cavorting, Stritch is struggling with old addictions and growing medical concerns. An admitted alcoholic, she wavers on her thoughts on going back on her twenty-plus years of sobriety. She is after all in her 80s, she tells us, what could it hurt? But with her battling diabetes, it seems it could hurt a great deal. Several health scares show her in a frightfully vulnerable state, which leads to the topic of her own mortality. She ponders on what her legacy will be once she's gone. While these moments are painful to watch, Stritch never lets them languor in sadness, quickly quipping, "Dying is easy; comedy is hard." And just like that her legacy is clear. This quick-witted comedienne will be remembered for being the badass broad who could make audiences laugh through the tears she's just made them shed. Elaine Stritch is a force of nature, and Elaine Stritch: Shoot Me is a glorious portrait of her in action.
Staff writer at CinemaBlend.
Your Daily Blend of Entertainment News
Thank you for signing up to CinemaBlend. You will receive a verification email shortly.
There was a problem. Please refresh the page and try again.