Tribeca Review: Open House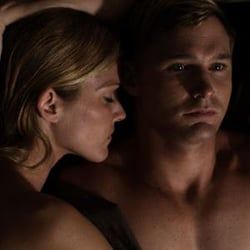 Going into the Tribeca Film Festival, I was under the impression that Michael Winterbottom's The Killer Inside Me would be considered the most brutal film being shown. While that still may be the case, Andrew Paquin's Open House certainly gives it a run for its money.
Following a break-up with her boyfriend, Alice (Rachel Blanchard) has decided to sell her Los Angeles home. While she's at work, her realtor (Gabriel Olds) hosts an open house, and unknowingly lets in David (Brian Geraghty), who proceeds to find a crawl space in the basement and hide. After returning home, Alice is taken hostage by both David and his sadistic accomplice Lila (Tricia Helfer). Keeping her as his secret in the basement, Alice soon begins to realize the intensely strained and abusive relationship between the two killers, eventually leading David to see Alice as a way out.
The true star of the film is Geraghty, who plays the stoic, glassy-eyed murderer almost too well. Emotionally abused by his partner, he has become a shell while serving as her slave, staying at home all day while Lila is out, preparing meals and sitting quietly until her return. When the character does finally smile, looking in a mirror while getting dressed for a dinner party, the only reaction you can have is nervous laughter because otherwise you might be convinced that he is truly dead inside.
The debut effort in both the writing and directing department for Andrew Paquin, Open House's plot is a fairly typical home invasion horror story, but breaks the mold by having the audience bond closer with David instead of them watching through the eyes of the victim. The character of Lila is slightly overdone--her black widow killing style feeling like it has been done many times before--but it is saved by her rapport with her damaged counterpart. Well-paced and with plenty of tension-- something missing from most horror films these days--it appears that Paquin has an appreciation for classic thrillers that is missing in most modern gore-fests.
The last time I watched a realtor's open house in a movie was in the Paul Rudd-Jason Segel movie I Love You, Man, where the two main characters met and clicked for the first time. This film is about as far away from that as you can travel. Paquin has no qualms about showing the brutality of his two psychopaths, who attack their victims with ordinary kitchen knives and store the decomposing parts in the attached garage. By the end of the film, however, the violence tapers off and becomes about relationships, reaching critical mass and an exercise of terror over horror. The film certainly has its faults and holes (why do so many people have a key to this house that they can use any time?), but is overall a solid debut effort.
Follow along with all of our special, Tribeca 2010 coverage right here.
Your Daily Blend of Entertainment News
Assistant Managing Editor
NJ native who calls LA home and lives in a Dreamatorium. A decade-plus CinemaBlend veteran who is endlessly enthusiastic about the career he's dreamt of since seventh grade.