Tribeca Review: Ticked-Off Trannies With Knives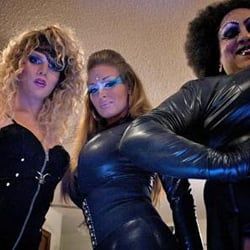 Back in 2007, Quentin Tarantino and Robert Rodriguez paired up to create the double-feature Grindhouse. The film was a loving recreation of low-budget 70's exploitation films that would run in seedy drive-in theaters and use shock to draw in audiences. The film worked hard to both praise the genre while also acknowledging its campiness. In 2010, director Israel Luna has created and premiered Ticked-Off Trannies With Knives, which not only rips off everything that made the Tarantino-Rodriguez film entertaining, but manages to suck all of the fun out of it in the process.
The film follows a group of five transvestites (Krystal Summers, Kelexis Davenport, Willam Belli, Erica Andrews, Jenna Skyy) who work at a small Dallas nightclub. One night, a man (Thomas Zembrod), having felt tricked by one of the girls, sets a trap that leaves two of the girls dead, lands two in the hospital and has one fall into a coma. Once recuperated, the three remaining girls hatch a plan to get back at the man responsible for the hate crime.
At their heart, the modern day versions of the genre are actually meant to be comedic, reaching the valuable "so bad it's good" level. Trannies doesn't have a single laugh in the film. Evidently, Luna believes that the funniest dialogue in the world is having a group of catty bitches sitting around and making fun of each other, and the result is groan worthy. The number of fat jokes that the actors make at each other's expense exceeds even the worst Kevin James movies. At 95 minutes, the film doesn't seem long from an outside point of view, but when the first 20 minutes is nothing more than shrill complaints and insults, it drags endlessly.
The film even goes as far as to rip-off the little quirks in its presentation from the 2007 film. The grainy film stock is understandable, and has been used since in movies like last year's Black Dynamite, but Luna goes as far as to include missing reel gags, burning film and title cards informing you of changeovers. When Tarantino and Rodriguez did it, they were giving homage to a theater experience they took pleasure in growing up. In Luna's film, it seems as though he looked it up on Wikipedia.
I will admit I was looking forward to this film prior to seeing it. From the description and trailer, you got the sense that the director had familiarized himself with the classics, I Spit On Your Grave the first film coming to mind, and the title alone is enough to make you crack a smile. But an idea that had potential is completely squandered here, with nary a single moment that I would call enjoyable. GLAAD shouldn't be protesting the film because it misrepresents transgender individuals. They should be protesting because it's an awful piece of cinema.
Follow along with all of our special, Tribeca 2010 coverage right here.
Assistant Managing Editor
NJ native who calls LA home and lives in a Dreamatorium. A decade-plus CinemaBlend veteran who is endlessly enthusiastic about the career he's dreamt of since seventh grade.
Your Daily Blend of Entertainment News
Thank you for signing up to CinemaBlend. You will receive a verification email shortly.
There was a problem. Please refresh the page and try again.