Tron 3 Will Explore What Happens When Olivia Wilde Enters The Real World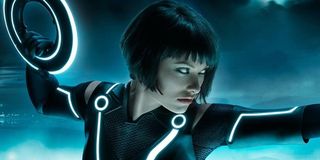 When it was announced a few weeks back that Tron Legacy stars Olivia Wilde and Garrett Hedlund would be reprising their roles in an upcoming sequel to that 2010 franchise revival, it was rather surprising for several reasons; notably, the film's less-than-stellar performance. Yet, for the film's co-star, Wilde, the delays that mired this film may have proven fortuitous when it came to finding a good story. In a recent interview, the actress discusses what's in store for her character, Quorra.
Sitting down with Collider at the Tribeca Film Festival, Olivia Wilde addressed her return to the Tron franchise, promising an optimistically intriguing arc for Quorra. A code-written, artificially intelligent character from the digital realm of the Grid, Quorra would escape with Garrett Hedlund's Sam Flynn in Legacy, resulting in a corporeal makeover in the real world. Apparently, in collaboration with the returning Legacy director, Joseph Kosinski, the aspect of Quorra's adjustment to her new life will be central to the upcoming new film. As Wilde explains,
Wilde would also explain that the delays plaguing this sequel were never over scheduling issues in any regard and have only been attributed to the task of, as she put it, "finding the right story." In fact, Wilde reveals that the current rumblings over the film in the past year came about because "the right story kind of came together." Certainly, the idea of Quorra's adjustment to life in the real world was inevitable from the moment the transition occurred at the end of Legacy. However, it does seem that ambivalence regarding the actual approach to this rather obvious angle was responsible for leaving the sequel project in its inertia.
A long-awaited follow-up to the iconic precursor of the virtual reality genre in 1982's Tron, 2010's Tron Legacy arrived hugely heralded and heavily marketed, but would only yield a serviceable $400 million global take at the box office. Thus, the prospective third film would be returning as a direct sequel to an unexceptional box-office performer at a time that will be well over five-years later. Yet, the Tron branding itself could still carry significant weight amongst the deep-pocketed, movie-going public with genre leanings. If, indeed, the "right story" that took some five years to locate has been found, then director, Joseph Kosinski and his two stars may be sitting on an angle that could prove to be a breakthrough.
Likewise, the groundwork seems to have been effectively laid at the end of Legacy for this film to distinguish itself separately from Legacy, focusing on the potentially comedic and dramatic aspect of Quorra's transition from ass-kicking algorithm in the Grid to a flesh-and-blood woman in the real world. It's a premise that's certainly ripe full of opportunities to explore philosophical themes relating to artificial intelligence, with a metaphysical focus on what defines a "real" life. Of course, the film should also play to its bread and butter, inevitably taking things back to digital domain of the Grid for more intense eye-popping action that, like its predecessor, will lend itself well to the 3D experience.
At the moment, no release date has been set for Tron 3, which was rumored to be titled Tron: Ascension. However, production is reportedly set to commence this fall.
Your Daily Blend of Entertainment News