UPDATE: 3D Animated Terminator Movie In The Works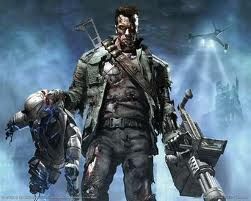 UPDATE: Pacificor, the rights holder to the Terminator franchise, has sent Hannover House a cease and desist letter insisting they stop this project. Hannover House insists, "We've arranged a meeting, we'll show them our money and if the rational brain prevails, they'll take the deal." Read more at Deadline.
The Terminator franchise has gone many places (not all of them great) in the story of John Connor's resistance-leading quest to eliminate all things robotic and evil in the world. With live action movies and a short television run already done, one could make the case the Terminator world has been fully explored. Or has it? According to Coming Soon, Hannover House and Red Bear Entertainment have entered into a deal to create an animated, 3D Terminator 3000 film with a $70 million budget.
This is relatively big news on the Terminator front, especially considering the film company's goal to keep the movie at a PG-13 rating and open the franchise up to a younger generation. I believe there are still plenty of stories to be told within the dystopian universe of evil artificial intelligence and the Connor family leading the charge against it. And although the production team wants to keep violence low in this feature, the Terminator series has always had its roots in story rather than explosions (although there have been some good ones).
No plot or story details are available as of yet, but as a Terminator junkie I'm praying they get this one right. Production on Terminator 3000 is scheduled to start in January 2011, with no release date mentioned.
Your Daily Blend of Entertainment News
Doug began writing for CinemaBlend back when Terminator: The Sarah Connor Chronicles actually existed. Since then he's been writing This Rotten Week, predicting RottenTomatoes scores for movies you don't even remember for the better part of a decade. He can be found re-watching The Office for the infinity time.