UPDATED: After 2 Years, The Rum Diary Finally Gets A Release Date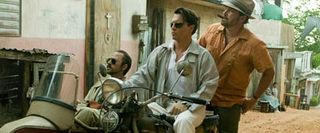 It looks like the Johnny Depp starring adaptation of Hunter S. Thompson's The Rum Diary may finally get released. The movie completed principle photography nearly a two years ago, and since then has been sitting on someone's shelf with no sign that we'll ever be allowed to see it. Last night that changed when our own Katey spotted a Rum Diary image at Cinema Con with a release date of October 28, 2011 stamped on it.
The fact that it's been sitting in someone's closet for so long probably doesn't mean good things, but The Rum Diary is perhaps Hunter S. Thompson's greatest work and, Johnny Depp plays Hunter S. Thompson like no one else. Unlike most of Thompson's other work, this one is mostly fiction, a fictionalized retelling of the time he spent working for a newspaper in Puerto Rico. Standing in for Hunter in the story is Paul Kemp, a self-loathing, frustrated reporter who abandons New York for a booze soaked life working for a failing, Puerto Rican local newspaper. Amber Heard is the movie's sex-charged, prone to nude sunbathing, female lead with Aaron Eckhart and Richard Jenkins costarring.
So who's releasing it? Coming Soon did a little extra digging and discovered that it's in the care of FilmDistrict, who's first ever film Insidious is getting a wide release this weekend. The week after they're releasing Soul Surfer and the newbie company seems to be making a play to become a significant player. They may see The Rum Diary as their way of getting into the Oscar race, assuming it's any good.
UPDATE! FilmDistrict just sent out a press release confirming the release date. Here's what they had to say:
For more on The Rum Diary visit its page in our Blend Film Database.
Your Daily Blend of Entertainment News
Thank you for signing up to CinemaBlend. You will receive a verification email shortly.
There was a problem. Please refresh the page and try again.