Video Blog: Katey And Nathaniel Flip For Whip It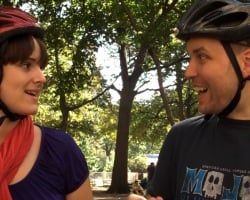 It was a long, mostly accidental hiatus, but The Film Experience's Nathaniel Rogers and I are back together again to talk movies, this time donning helmets and wristbands to express our unabashed, goofy love for Whip It.
Drew Barrymore's directorial debut didn't exactly tear up the box office this weekend, but that's all the more reason for us to throw our support behind it. We both loved the movie's enthusiasm and spirit, the performances by a whole lot of great actresses, and the sense that anyone could strap on some skate and have just as much fun as Ellen Page is.
Check out our seven minutes worth of review and chatter below. Hopefully this is the beginning of an autumn renaissance of our little occasional video blog series. Next up is our review of Lone Scherfig's An Education, coming out this Friday.
Staff Writer at CinemaBlend
Your Daily Blend of Entertainment News
Thank you for signing up to CinemaBlend. You will receive a verification email shortly.
There was a problem. Please refresh the page and try again.