Video Interview: Stake Land's Connor Paolo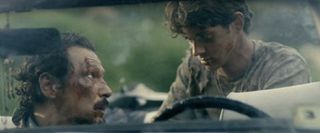 After four seasons of Gossip Girl, it's tough to picture Connor Paolo hanging out anywhere else except the Upper East Side donning the latest trends. Well, Paolo felt the need to shake things up and that he most certainly did with a vampire flick.
Paolo trades in Eric van der Woodsen's sport jacket and tie for tattered garb and an arsenal of wooden stakes in Stake Land. He stars as Martin, a young man whose parents are brutally murdered in the midst of a vampire apocalypse. A hardened loner named Mister (Nick Damici) takes the orphaned Martin under his wing teaching him not only how to fight, but how to disconnect himself from all emotional baggage. While the duo may be prepared for imminent vampire attacks, there's something far more brutal lurking in the woods that catches them off guard, something human, a group of religious fanatics called the Brotherhood. With a supposed safe haven called New Eden just a ways away, Martin and Mister have no choice but to travel through Brotherhood territory, risking everything.
Clearly, we're not at Hanover Academy anymore. Even beyond Paolo's intense location shift, Stake Land is a wildly different production in every way imaginable. Paolo was working on a set functioning on incredibly low funds, he was challenged to portray a character with very minimal dialogue and had to let go of all inhibitions as Martin finds himself in some rather uncomfortable situations. In honor of Stake Land's April 22nd release, Paolo took the time to sit down and tell us about it all. Check out what he had to say in the video interview below.
Your Daily Blend of Entertainment News
Staff Writer for CinemaBlend.
Your Daily Blend of Entertainment News
Thank you for signing up to CinemaBlend. You will receive a verification email shortly.
There was a problem. Please refresh the page and try again.