Video: Paul Rudd Has A Lot Of Terrible Ideas For Marketing Our Idiot Brother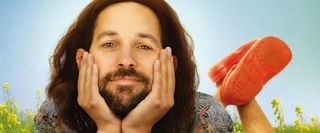 An indie Sundance success about to be released by The Weinstein Company, Our Idiot Brother isn't really the size of the movies that usually market themselves with Funny or Die viral videos-- y'know, your Piranha 3D or Bridesmaids. But it stars Paul Rudd and a ton of other famous people, and somehow or another Harvey Weinstein decided to get in on the fun too. So here we have Paul Rudd's failed, ridiculous, and completely hilarious pitch meeting with ideas for marketing Our Idiot Brother. Take a look below.
Paul Rudd Pitches Harvey Weinstein from Paul Rudd
It says a lot about the infinite appeal of Paul Rudd that this silly video goes on for as long as it does and never wears out its welcome. "People love the Brooklyn Dodgers!" "I want to talk to every single person in the world for at least 5 or 10 minutes." He's obviously in some version of his titular idiot character from the movie, but some part of me wants to believe Rudd is this cheerful, and slightly clueless, in real life. At least we have no trouble that Harvey Weinstein is actually this cranky.
Our Idiot Brother comes to theaters on August 26.
Your Daily Blend of Entertainment News
Staff Writer at CinemaBlend