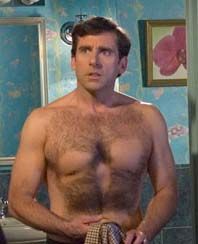 To celebrate the release of The 40 Year-Old Virgin and force you all into seeing it twice, here's some video.
Click the link below to watch 40 Year-Old Virgin stars Steve Carell and Paul Rudd interview each other in matching khaki suits. Carell admits he had sex with Daniel Day Lewis, and Paul discusses his view on virgins and wonders why they all wear onesies.
Click these other links to watch clips from the film in which Steve is kidnapped by hot, drunken women.
Your Daily Blend of Entertainment News
Thank you for signing up to CinemaBlend. You will receive a verification email shortly.
There was a problem. Please refresh the page and try again.