The Wachowskis' Jupiter Ascending, Starring Mila Kunis And Channing Tatum, Sets July 2014 Release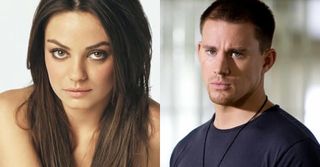 The Wachowski Siblings, Lana and Andy, have never managed to quite match the financial success they found with the Matrix trilogy-- though given how huge those movies were, you couldn't have blamed them for taking the money and running right then and there. Even when audiences haven't flocked, though, the two continue to collaborate on some of the most fascinating and iconoclastic big-budget movies out there, from the candy-colored chaos of Speed Racer to the earnest, genre-shuffling Cloud Atlas, a $100 million production that made just $121 million worldwide.
But because the Matrix name still means a whole lot to studios, the Wachowskis are moving full speed ahead on their next giant project, Jupiter Ascending, a futuristic drama set in a future world where humans have become the lowest species on the intergalactic totem pole. With Mila Kunis and Channing Tatum on board to star and an easy-to-embrace premise (unlike poor Cloud Atlas), Jupiter Ascending has a ton of potential, and Warner Bros. has now shown a huge sign of faith in it. According to an update at Box Office Mojo, Jupiter Ascending has set a July 25, 2014 release date, putting it right in the thick of the hugely competitive summer movie season.
Not only that, but the late-July berth is a typically huge one for Warner Bros., which has debuted The Dark Knight Rises (July 20), Harry Potter and the Deathly Hallows Part 2 (July 15), The Dark Knight (July 18) and Inception (July 16) all around the same time. Of course, Jupiter won't be the only huge movie fighting for that spot-- Fox is premiering X-Men: Days of Future Past on July 18 next year, and the Wachowskis film will be opening directly against the Dwayne Johnson-starring Hercules.
We've been closely following developments on Jupiter Ascending for months now, from http://www.cinemablend.com/new/Crazy-Details-Emerge-About-Wachowskis-Jupiter-Ascending-31184.html>digging up some intriguing plot details to celebrating the fact that composer Michael Giacchino is on board. Summer 2014 is admittedly earlier than we expected to see a movie this big, but Warner Bros. clearly has confidence, and the Wachowskis have never lacked it.
Staff Writer at CinemaBlend