Watch John Boyega Board The Millennium Falcon For The First Time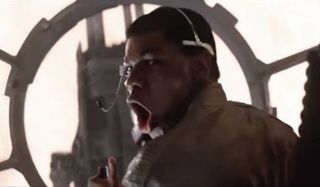 John Boyega's enthusiasm and excitement that he was simply a part of Star Wars: The Force Awakens was palpable throughout his promotional work on the blockbuster, and it even eked into his energetic performance. So when he stood on the Millennium Falcon for the first time it's understandable that he freaked out slightly. Luckily for us, someone was on-hand to capture this moment, which you can watch in all of its glory below. Warning: You'll probably fall in love with John Boyega even more when you do though.
To be fair to John Boyega I got chills just watching that clip, which came courtesy of the Wall Street Journal, so actually being in the presence of the famous vessel would probably have immediately reduced me to tears. Especially since the Millennium Falcon was built to proper scale and John Boyega was due to work extensively inside the craft alongside Daisy Ridley's Rey, Harrison Ford's Han Solo, and Peter Mayhew's Chewbacca. Basically, at that moment, John Boyega was winning at life.
In fact, the only thing that could have made the above clip even better would have been if Harrion Ford himself had disgruntledly walked past John Boyega and then mocked him for his enthusiastic response.
You can immediately see from the clip just how excited and overjoyed the 24-year-old was to be face-to-face with such an iconic piece of movie memorabilia. Not only did he exclaim, "Oh my gosh," which is probably the most English reaction he could have possibly had, but he admitted to the camera hat he was shaking and trembling with excitement about getting to work on it.
But that joy didn't seem to dissipate. In fact, John Boyega only appeared to get more and more excited once he actually stepped onto the Millennium Falcon. John Boyega confessed that he was giggling profusely because he was actually on-board the huge ship, and he then ran all across it so that he could check out every little detail before he was allowed to play under the supervision of director J.J. Abrams.
John Boyega discussed his rather positive response to the Millennium Falcon as part of the home-entertainment release for Star Wars: The Force Awakens, which you'll be able to own through video on demand from April 1, and on Blu-ray and DVD from April 5. Of course, this probably won't be the last time that John Boyega gets to step onto the Millennium Falcon, as he is currently hard at work shooting Star Wars: Episode VIII. Hopefully he's got a little more used to it by now, though.
Your Daily Blend of Entertainment News
Your Daily Blend of Entertainment News
Thank you for signing up to CinemaBlend. You will receive a verification email shortly.
There was a problem. Please refresh the page and try again.