Watch John Lasseter Explain The Origins Of Buzz Lightyear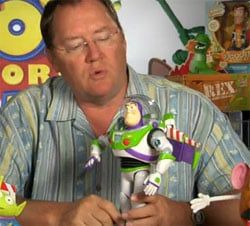 The 90s were a great time for movies but in my book the best movies of the 90s came not from an auteur like Quentin Tarantino or an iconic director like Spielberg, but from a goofy bunch of nerds at a little animation studio called Pixar. Toy Story and Toy Story 2 hold up like almost no other pairing of films and this weekend you'll have the chance to revisit both of them in 3D in theaters.
But if you're wondering what made those movies and all of Pixar's movies so great, then look no further than John Lasseter. Disney has a new animation channel in which the Pixar godfather talks about the Toy Story films characters and subsequently the new toy lines they're creating to duplicate them in real life. The toys themselves are cool but what really makes it worthwhile is what you'll see in the embedded video below. In it, Lasseter talks about the origins of Buzz Lightyear. He explains the obvious, such as where they got his name (Buzz Aldrin of course) to why they chose lime green and purple as his colors. Lasseter is still a big kid and watching him talk with such obvious enthusiasm not just about his characters, but the toys for them, it's easy to imagine him sitting down and playing with his Buzz action figure when his office door is closed and nobody else is looking.
If you're a Pixar nerd, or if you just love Toy Story (and if you don't what's wrong with you?), click play below:
Your Daily Blend of Entertainment News
Thank you for signing up to CinemaBlend. You will receive a verification email shortly.
There was a problem. Please refresh the page and try again.