Watch Justin Long Romance Drew Barrymore In 7 Minutes From Going The Distance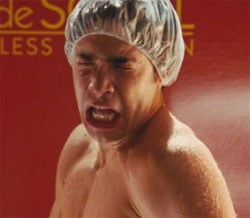 Here's a little advice for you, if you ever become involved in a celebrity coupling. If you're looking for privacy, if you wish people would just leave you alone so that your love can blossom, then you probably shouldn't make a movie in which you and your significant other re-enact a romance on screen. It sends the wrong message. I know the next time I feel bad for some celebrity couple being hounded by the paparazzi, I'll probably think of Going the Distance, erase my guilt, and gleefully look at the latest photos of Walkadonna (that's Chris Walken and Madonna. It's happening. I guarantee it).
In Going the Distance real life couple Drew Barrymore and Justin Long (whose age difference isn't actually as big as you might think) play love birds trying to pull off the whole long distance romance thing. It's cute, and sweet, and people will probably eat it up even more because in real life they're actually in love. That's fine. Just remember not to feel sorry for them the next time their dinner date ends up on the pages of US Weekly.
So here's a quick look at what's up with Going the Distance in the form of eight new clips. It's pretty much the movie you'd expect. Justin Long is likeable. Drew Barrymore is likeable. The movie is sure to be likeable. There's not much more, except a poorly chosen spray tan gag (which the woman who sat behind me and giggled like a crazy person during the least funny scenes of Despicable Me will probably find hilarious) and a pretty funny sex scene in which the guy from Pale Force eats lunch. The film also features Christina Applegate in her first movie role since beating breast cancer. I'm probably not supposed to admit this, but seeing her sitting there in those clips makes me want to donate money and wear a few pink ribbons. Yes, for exactly that reason. I'll need a Married with Children marathon after this. Here's the clips:
For more on Going the Distance visit our preview page.
Your Daily Blend of Entertainment News