Watch Marvel's Comic-Con Panels For Avengers 2 And Ant-Man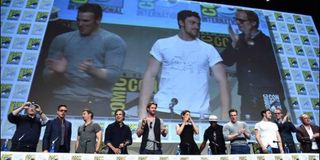 Without question, the most buzzworthy panel heading into San Diego Comic-Con was the one held by Marvel Studios on Saturday evening. And even though the studio held back on the major announcements – choosing to pour their focus into Ant-Man and The Avengers: Age of Ultron -- the Marvel panel still had plenty of fans outside of San Diego begging for information (and a blast of star power). Now, thankfully, you can watch the Marvel panel for yourself – only without that glorious Age of Ultron footage that I know you are dying to see.
Marvel Studios President Kevin Feige held serve over the Hall H panel, introducing press time with such massive celebs as Michael Douglas, Paul Rudd, Evangeline Lilly and Corey Stoll for the Ant-Man portion of the panel.
That gave way to the massive Marvel panel for Joss Whedon's The Avengers: Age of Ultron. Sadly, Whedon couldn't be there, because of this:
But that doesn't mean the panel was light. Watch for yourself! There was the introduction, followed by the Q-and-A by the moderator, Chris Hardwick.
Followed by the reveal of Josh Brolin's deadly character… Thanos!
I know. I hear you. Panel are fine, and the celebs are great. But you want to see the footage. You want to see Ultron (and not just hear him, in that pirated audio that is making the rounds). You want to see the Ant-Man test footage. Kevin Feige says it will be a while before any of it makes its way to the Web. I'm hoping it's sooner than that. Maybe as a post-credits sequence at the end of Guardians of the Galaxy this weekend? Knowing that fans want to see items featured in the Age of Ultron footage, Marvel did drop two movie props on the floor of the convention center as the masses were fleeing San Diego. First, half of Ultron in his earliest forms, and a Hulkbuster armor hand:
Secondly, they showed Captain America's busted shield, which was the crucial image in the final shot of the teaser footage. What could have possibly done this?
It's going to get ugly when Ultron (James Spader) brings his army to our planet. Will the Avengers have enough fire power to halt his rage? Find out next summer.
Managing Director at CinemaBlend. ReelBlend cohost. A movie junkie who's Infatuated with comic-book films. Helped get the Snyder Cut released, then wrote a book about it.
Your Daily Blend of Entertainment News
Thank you for signing up to CinemaBlend. You will receive a verification email shortly.
There was a problem. Please refresh the page and try again.