Watch A Young Kevin Costner Play A Cowboy... For Charity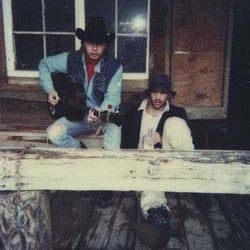 Usually when an actor makes a tiny short film with his buddies before he's super rich and famous, the movie either winds up a collector's item among the people who have it or somehow gets used as blackmail. But in the case of short Western "Bad Day," featuring an early performance by Kevin Costner, it's resurfacing for charity. Well, partly. As picked up by La Figa, filmmakers Modi Frank and Exene Cervenka have decided to release the black-and-white, silent short online 25 years after it was made, and a portion of the proceeds will go to charities benefiting the Gulf, inspired by Costner's efforts to build a machine that could accomplish the clean-up after the oil spill. (Read all about it here).
"We are both so proud of Kevin and grateful for all he's doing to help in the Gulf," Exene and Modi said, explaining that they had considered releasing the short several times over the years, but "now with the internet we have control over distribution with digital downloads. We want the world to see it and enjoy." You can check out the film's trailer below, featuring cameos from other music icons like Chris D and Julie Christensen, and yes, a smiling, very young Kevin Costner. You can learn more about the film and purchase it for a "pay what you will" donation at the movie's website.
Your Daily Blend of Entertainment News
Staff Writer at CinemaBlend