Well, We Know What The Next Friday The 13th Movie Won't Be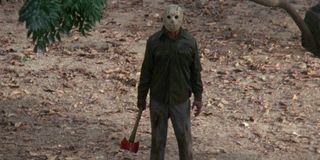 Horror fans have been waiting for a new Jason Voorhees movie for quite some time now, but one studio has been hard at work on the latest addition to the Friday 13th franchise. And during a chat regarding the latest addition to the series, it was revealed that – contrary to prior reports - the next installment won't be a found footage film, and will instead proceed with a more classical approach.
Producer Brad Fuller admitted to Shock Till Your Drop that the pressure from fans regarding the next effort for the franchise had led them to reconsider the found footage approach. There had previously been a huge outcry of emotion in regard to the reports that the movie would be using the hand-held camera method, which is what led Fuller and creative team to take a complete return over the film.
After being quizzed about the film as well as the response over the proposed found footage approach, Fuller revealed how it led them to reconsider while also admitting how it actually influenced them. He said,
Director Dave Bruckner revealed that those in control, after some issues during production, have decided to take a different approach to the film. After ditching the found footage method, they started completely from scratch – presumably because the cinematography angle was tied into the narrative. The project is now in what the filmmaker says is "later phases of starting over," and the hope is that there will be a completed script in the next month or so.
With the found footage distraction out of the way, the filmmakers could focus on what's really important – which is the presence of Friday The 13th central antagonist. The producers explained,
The talent behind the Friday 13th reboot sound as if they're taking a fresh approach that gets to the core of what we care about in these movies . However, at the moment, it's still all talk. Let's just see if they're able to progress.
Your Daily Blend of Entertainment News
Your Daily Blend of Entertainment News
Thank you for signing up to CinemaBlend. You will receive a verification email shortly.
There was a problem. Please refresh the page and try again.