This Week In Home Entertainment: True Detective, Jack Ryan And Non-Stop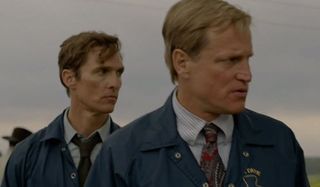 True Detective DVD
Event series are becoming trendy on television, and HBO delved into the genre recently with the critically acclaimed drama True Detective, a show which bears absolutely no relation to the network's similarly named series, True Blood. This one's not about vampires, werewolves or any sort of camp. Instead, the Woody Harrelson and Matthew McConaughey starrer is a dark and gloomy tale about two detectives who have trouble finding the culprit of a slew of gruesome murders deep in the Louisiana bayou.
True Detective is set in a desolate landscape deep in the heart of the American South, where houses are often located miles from any other sign of humanity. Houses and businesses are in shambles. Somewhere in all of this overgrowth, there's a murderer present, leaving bodies and other clues connecting to churches and hedonistic rituals, and even stories of a green-eared spaghetti monster. At the heart of the case are determined detectives Rust Cohle (Matthew McConaughey) and Marty Hart (Woody Harrelson), men who earn the label anti-hero. Cohle's a skittish male with a horrible past and Hart's a weak man who drinks and cheats on his family.
Despite all of the hardship and harrowing storytelling present in the narrative, True Detective ends on a hopeful note. It's a masterful reminder that the end of a story is never really the end, a reminder that wraps up True Detective neatly with a bow and a true nod to the power of the miniseries format. Add in some stylish packaging from HBO and more linking clues encountered upon rewatch and True Detective is one to own.
You can order True Detective over at Amazon.
Best Special Feature: HBO sent us a DVD copy of True Detective, but the extras and packaging for both sets seem pretty similar. The inner packaging contains a slew of grim black and white photos of the show's most prominent characters, and the discs are in matching greyscale. All of the bonus features are located on Disc 3, but the best is probably "The Making of True Detective, which features interviews and behind-the-scenes footage from the shooting of the film. Interesting tidbits include the fact that the first two scripts were rewritten to fit Harrelson and McConaughey's voices. Additionally, birds of prey were kept onhand on the sets simply to make sure the mockingbirds didn't get too loud! Watch it. You won't be disappointed.
Other Bonus Features:
"Making True Detective"
"Up Close with Matthew McConaughey and Woody Harrelson"
A Conversation with Nic Pizzolatto and T Bone Burnett
Inside the Episode Guides
Two Audio Commentaries
Deleted Scenes
Jack Ryan: Shadow Recruit Blu-ray
Jack Ryan: Shadow Recruit had all of the makings of a box office success. The film is the fourth of its kind, starring a beloved character who has been portrayed by the likes of young Alec Baldwin, Harrison Ford and Ben Affleck in the past. The character also stems from beloved novelist Tom Clancy, which should have helped coax the 50+ crowd into the theater. Unfortunately, while Jack Ryan: Shadow Recruit made money worldwide, it didn't do so well domestically. Regardless, it might still be worth checking out on the DVD scene.
The plotty tale stars Chris Pine as the titular Jack Ryan, an economics genius who decides he wants to do his part for his country. Ryan joins the Marines, but after an operation goes bad, he is recruited by CIA operator Thomas Harper (Kevin Costner) to work with the organization in order to catch terrorists. When a mission takes Ryan to Russia, the spy meets a worthy opponent in Victor Cherevin (Kenneth Branagh, who also directed the flick). It also becomes clear that his work with the CIA could put his lover and partner Cathy (Kiera Knightley) at risk.
The film is a nice balance of intellectual intrigue and fast-paced action. So, whatever fans are looking for, they're likely find it. Unfortunately, the film isn't a master at either thing, and most will likely only be moderately entertained. Still, that's better than the average movie to hit theaters, and it's a great way to pass the time.
Best Special Feature: There are plenty of the basic deleted scenes available with the set, but if you are interested in the history of Clancy's character as well as the United States' history with Russia, you will probably enjoy "Old Enemies Return," an extensive extra tying the bad guys from the four Jack Ryan movies together.
Other Bonus Features:
Commentary by Kenneth Branagh and Lorenzo di Bonaventura
"Jack Ryan: The Smartest Guy in the Room"
"Sir Kenneth Branagh: The Tsar of Shadow Recruit"
"Jack Ryan: A Thinking Man of Action"
Deleted and Extended Scenes
Non-stop Blu-ray
There are two types of action stars. There are those with almost superhuman physiques who leave a trail of bodies behind their rippling muscles like Greek gods and then there are those who basically play normal-ish people who are just really good at kicking ass. Liam Neeson falls in that second group. He looks like a former cop or an aging uncle who used to be in the marines. In Non-Stop, he proves that yet again as an alcoholic air marshall who is being framed for hijacking a flight.
The specifics of the story are about what you would imagine. There's a terrorist asking for $150 million. There's a small group of passengers we're introduced to, most importantly Jen Summers (Julianne Moore), and there's a mob of faceless random people and of course, a crew, led by a flight attendant named Nancy (Michelle Dockery). One of them is a terrorist, though thanks to a series of complicated text messages and random murders, it's extremely difficult for our hero, Bill Marks, to figure out exactly which one is up to no good.
Non-Stop doesn't work nearly as well as Taken, but the action is brisk and well shot. The mystery is careful enough to be suspenseful, and some of the fight scenes are very well choreographed, especially considering a plane is a confined space. There are also enough recognizable character actors in the bunch that viewers won't be able to easily gravitate toward the mastermind, which is really important for a whodunit.
Best Special Feature: The best special feature is definitely "Suspense At 40,000 Feet". The director of the film compares the narrative to both whodunits and monster movies. The goal was to bring together a large cast and allow them to eventually face the same foe and come together. It's a really interesting take, and it's nice to hear everyone in the cast talk about things like filming in a confined space.
Other Bonus Features:
"Non-Stop Action"
Other June 10 Releases Ray Donovan: Season One
Visitors
Perry Mason Movie Collection Double Features DVD
Unacceptable Levels DVD
Klondike
The Secret Lives of Dorks DVD
Amazing Race & Top Chef superfan with a pinch of Disney fairy dust thrown in. If you've created a rom-com I've probably watched it.
Your Daily Blend of Entertainment News
Thank you for signing up to CinemaBlend. You will receive a verification email shortly.
There was a problem. Please refresh the page and try again.