Weekend Box Office: Captain America: Winter Soldier Captures Record Breaking Number One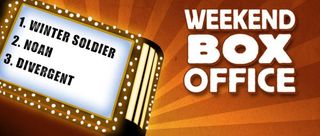 When one of the Avengers has a movie release, it's a smart idea not to try and put out anything else that same weekend. Hollywood heeded that advice and Captain America: The Winter Soldier had the limelight all to itself, breaking a monthly record and scoring an easy number one.
Well up from the debut of its predecessor, Captain America: The First Avenger, which opened at $65 million in 2011, Winter Soldier bowed in with $96 million. That's not the best ever opening for an Avenger flick (all three Iron Man movies have been higher), but it is the highest ever April opening, topping the $86 million Fast Five banked back in 2011.
The question now is how well Winter Soldier will hold up over the long haul. It's on track to pass the $176 million domestic total for the first Captain America flick, but it has a long way to go to catch up the $250 million total for 2014's current year-to-date top earner, The Lego Movie.
For the full weekend top ten, check out the chart below:
1.
Captain America: The Winter Soldier

$96,200,000Total: $96,200,000LW: N
THTRS: 3,938
2.
Noah

$17,000,000Total: $72,341,000LW: 1
THTRS: 3,571
3.
Divergent

$13,000,000Total: $114,029,000LW: 2
THTRS: 3,631
4.

God's Not Dead
$7,726,000
Total: $32,520,000
LW: 5
THTRS: 1,758
5.
The Grand Budapest Hotel

$6,300,000Total: $33,380,000LW: 6
THTRS: 1,263
6.
Muppets Most Wanted

$6,285,000Total: $42,142,000LW: 3
THTRS: 3,052
7.
Mr. Peabody & Sherman

$5,300,000Total: $102,202,000LW: 4
THTRS: 2,931
8.
Sabotage (2014)

$1,908,000Total: $8,767,000LW: 7
THTRS: 2,486
9.
Need for Speed

$1,836,000Total: $40,839,000LW: 8
THTRS: 1,779
10.
Non-Stop

$1,827,000Total: $88,138,000LW: 10
THTRS: 1,724
Your Daily Blend of Entertainment News
Thank you for signing up to CinemaBlend. You will receive a verification email shortly.
There was a problem. Please refresh the page and try again.